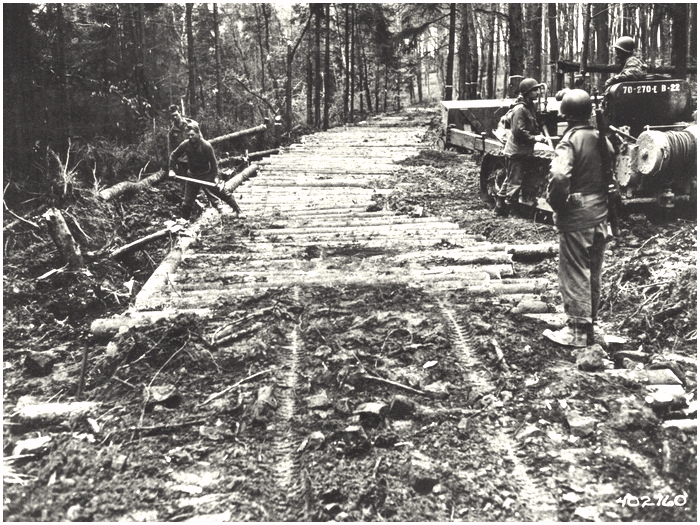 An example of a Corduroy Road
(An US Army 300th Combat Engineer road at Raeran, Belgium)
After the rescue of the paratroopers from Oosterbeek, Donald Somerville was given other jobs. Among them was the construction of the so called Corduroy Roads. These roads consisted from logs (and are also called 'Log Roads'). These are placed on wet and muddy surfaces, so traffic will not get stuck. The making of these kind of roads are old, as early as 4000 years BC the first log roads were constructed. During the construction of such a road, in november 1944, a log from a pile shifted and landed on Donald his foot. The wound was not that serious, and Donald was placed on 'light duties'.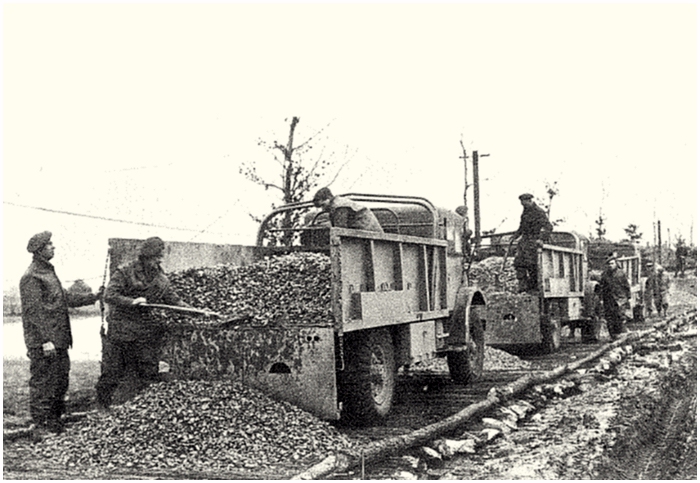 Canadian Engineers drop gravel, from a 3-ton GS, onto a Corduroy Road
But Donald became ill during this period and was taken to a hospital in Antwerp. When he was well enough to get back to his job with the 23rd Field Company, he had to wait for an opportunity. Instead of going back to his old unit, he joint the 20th Fd Coy because they had an opening.
Donald spent Christmas Eve 1944 in 's Hertogenbosch at a small church. There, the nuns sang Christmas carols and provided them with a warm meal. That night always stands out in his mind, as his only really moment of peace and light, in a time of 'darkness'.
A storm boat being pushed into the Ems in 1945 by Canadian troops
On April 28th, 1945 Donald once again took part in an assault crossing. This time in Leer, Germany. During Operation 'Duck' they had to bring across the river Ems, the Infantry of the 3rd Canadian Division. The boat was steered by two sappers, with the junior rank at the bow of the boat. The higher rank operated the outboard engine. So Donald his duty was 'bowman'. But because Donald had experience with the Storm Boats, the 'driver', Corporal W.A. Martel, asked Donald to take controle. So they switched places, and went to their business. During one of the crossings, 'bowman' Martel took a gunshot in the forehead, and died instantly. The shock must have been great for Donald, as that was his original spot in the boat. Until this day, this stands out quite clearly in his mind…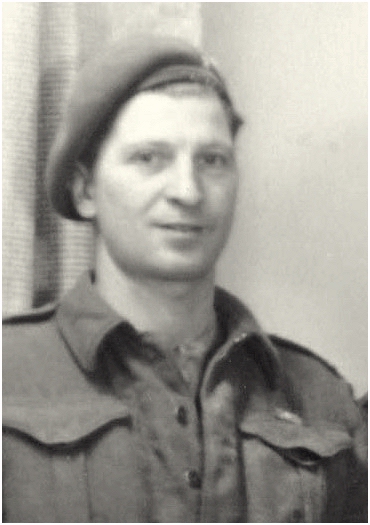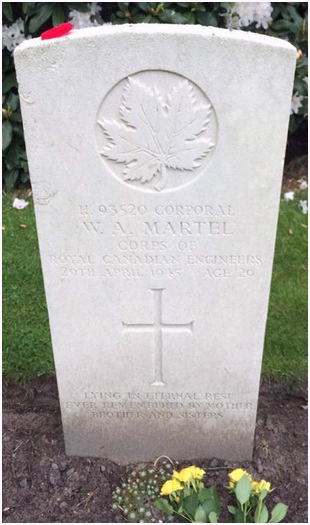 Corporal W.A. Martel and his grave at Holton cemetery
(picture gravestone: Jamie Imhoff)
But war winded down, and Donald was moved back to Holland and spent some time at the former Zuiderzee (now called IJsselmeer). He even went to the beach and saw German prisoners clearing the dunes of the mines. Donald: 'No way in hell we were going to do it at this stage of the war!' (there was still a war going on in the Far East). During this time, Donald got word, through a messenger, that he was going to be a father. The bride to be, Marion, he had met during his training in England. Marion was also in the service as an Anti-Aircraft gunner for the British.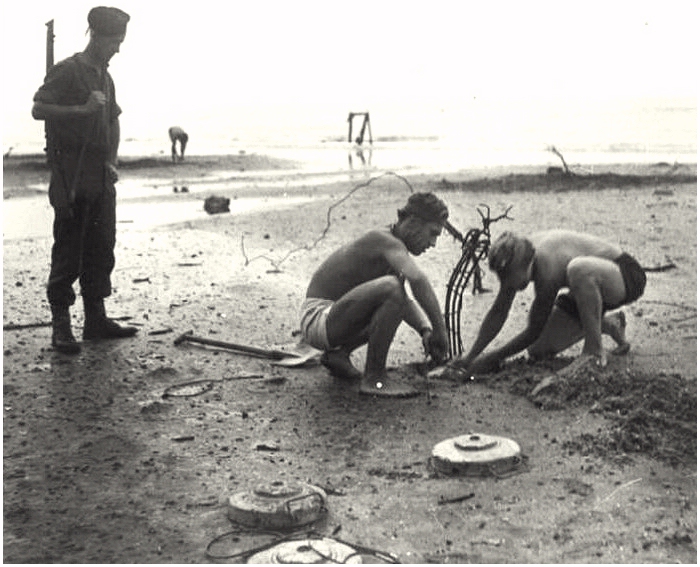 Donald witnessed how German prisoners of war cleared mine fields
Donald will always remember leaving abroad Europe and return to England. He went left from Ostend, Belgium back across the channel in June, 1945. The train ride from the coast to London was beautiful, he can still remember all the green pastures, and the farmers fields,... a far cry from 'that awful smell' and the darkness I was leaving behind. It is something I always look back on, as that moment where I could say to myself,... 'I made it'.
Donald returned to Canada in October 1945, and was released from the Army in November.
Donald first son was named; Donald (Donny). Marion came over to Canada with other war brides in 1946. With Marion, Donald had 4 children, 2 boys and 2 girls: Donald and Huey, and Lynn and Dianne. Donald re-married, and together with his new wife, Jennie, came two step daughters, Darlene and Susan. Darlene travels quite often with Donald on his trips back to Holland.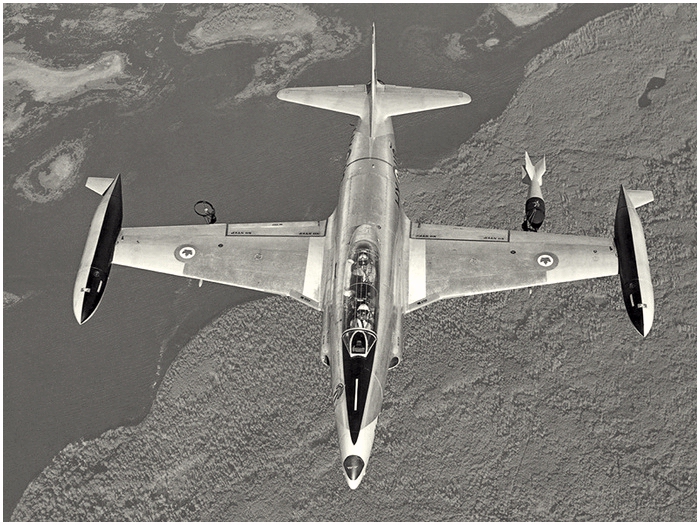 A Canadair CT-133 Silver Star in the target-tow role
(Maybe Donald worked on this one,...?)
When Donald returned, he took over a portion of the family farm which he acquired from the 'Veteran's Land Act'. He only did this for 4 years, as the Ontario, Government eventually bought it back from him to run a major highway through his land. During the Korean War, Donald helped construct fixtures and did the riveting on the Lockhead T-33 Trainer aircraft which was being built as the CT-133 Silver Star at Canadair. After that, he worked a variety of different jobs including a 17 year stint with General Electric.
For more information on the Legion, click on the logo above
Donald Somerville's first trip to Holland was in 1990 for the 45th Anniversary.... This trip was organized through his Legion (see logo above). He was very anxious to go back and see the country he helped liberate. He would make a total of 5 trips, 1990, 1999, 2005, 2010 and 2014 (and he is very much looking forward to coming back again for the 70th Anniversary in May 2015).
- 2010 -
As mentioned on the first page, Mario van Gerwen is the mechanic working for Goossen Foppen. Goossen is owner of several vehicles form the World War Two period, and is also chairman of the preservation club for period vehicles 'Keep Them Rolling'. In 2009 and onwards, Mario was working on an M4A1(76) Sherman tank, and tried to get it ready for the celebrations in May 2010. When the first happening occurred, on April 30, 2010, the Sherman was ready to hit the roads of the city of Harderwijk in Holland.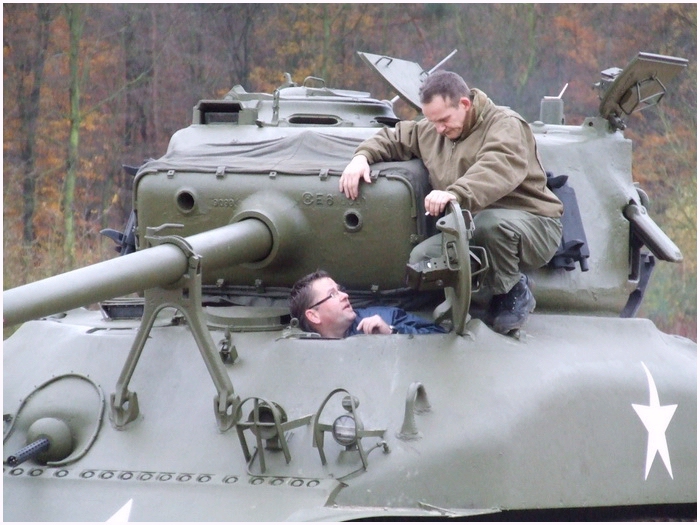 Mario van Gerwen (right) and Goossen Foppen in the M4A1(76) Sherman
During the restoration of the Sherman, yours truly was following the whole process and made a large website for this. As a thank you, Mario asked me on the first of May, if I could help him to give the Sherman a name. It was unknown to me, that Mario had some other plans as well. He had spoken to some Canadian veterans, among them someone called Donald Somerville,… Mario, a man who knows all about Operation 'Market-Garden', jumped on Donald his stories, and became hooked. Finally he had met one of the Storm Boat Kings, a story he was always telling to people on the windy dyke near Driel, during his Battlefield tour around Arnhem and Oosterbeek. Oh, and had Mario a plan,… a big one, and he hoped, Goosen would give him his blessing,…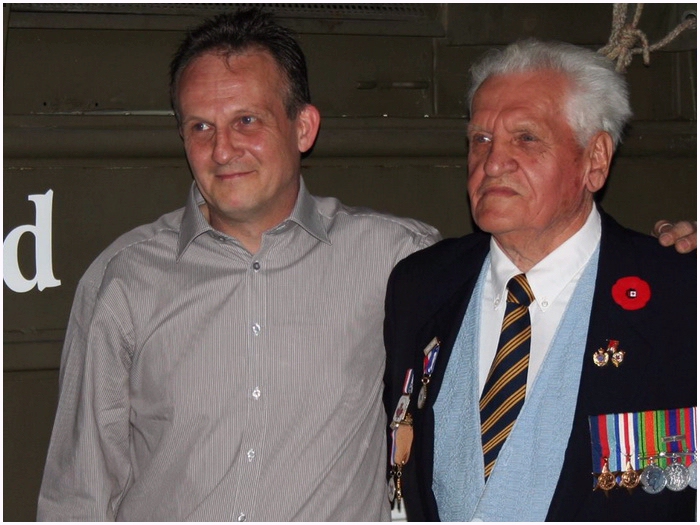 Mario van Gerwen and Donald Somerville
On the next page, a photo collage
of Donald his return to Holland in 2010,...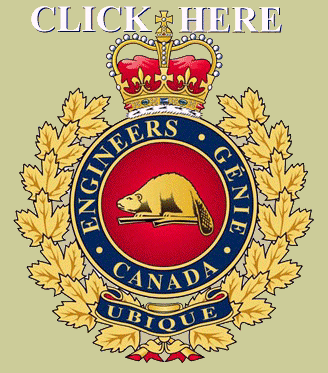 ---