St Désir-de-Lisieux, 3.735 graves
In these six war cemeteries about 100.000 dead Germans found their last resting place.
The Germans lost in Normandy 450.000 men, 240.000 death and wounded (another 120.000 taken prisoner). An offer to think about.
---
'Normandy Tank Museum, A-10 Airfield'

Return and cross the highway N13/E46 heading towards Grandcamp-Maisy. After you crossed the highway, take exit three on the roundabout, to Isigny-sur-Mer (D613). In Isigny-sur-Mer, do NOT follow the signes 'Autres Directions', but head through the town and stay on the D613 towards La Fourchette/Carentan. After 8 km, you come across, on your left, on the Avenue du Cotentin, just beyond the sign to Catz, the 'Normandy Tank Museum, A-10 Airfield'. This museum, opened in June 2013, is different from all the other museums in Normandy. It consist completely of tanks and other military vehicles, among them two aircraft. The title 'museum' does not cover this place, it's more of a collection than a museum. But, that said, it's well worth a visit, because all the vehicles can be inspected up close.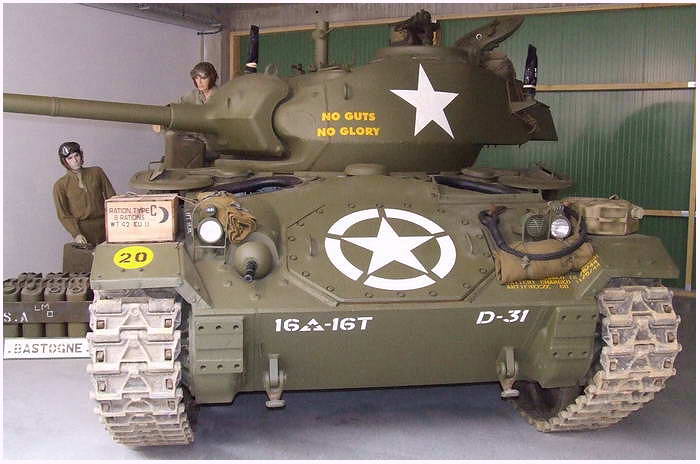 A fantastic restored M24 Chaffee tank
As you may notice, the high decree of restoration work on the vehicles is exceptional. All the vehicles and aircraft are in working order, and are driven on a regular base. You may even take a ride on one of the tanks (after an appointment). The museum is still a fresh one, and will be become better in the coming years. It might even become a competitor for the most important tank museum in France, in Saumur, at the Loire river.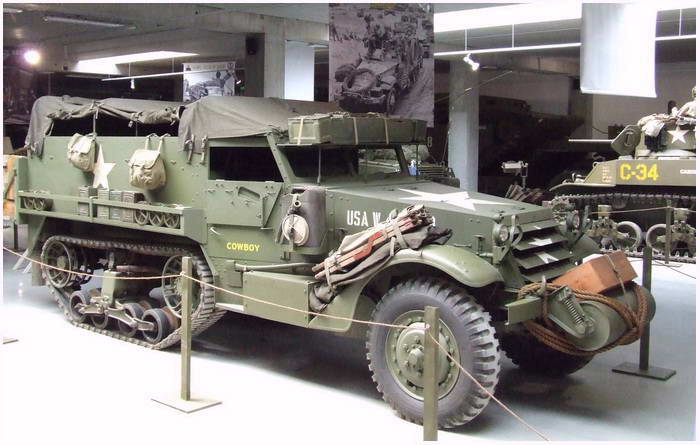 An M3 Half Track
There was one point of critic (in 2013); That was the small amount of information. The info that was available, was only in French, but that has being taken care of, and is also in English available. They claim to be a museum, so education must be provided, and to bring the info in more than just French is a big plus. During 2013 there was plenty of work in progress, on the parking lot and the adjacent terrains. Two big holes, former bombcraters are preserved next to the parking lot. The museum is built on the former ALG ('Advanced Landing Ground'), A-10 of the Allied air forces.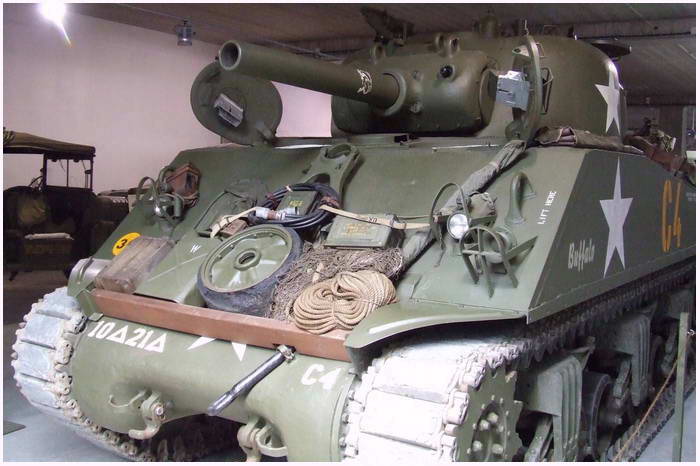 This is the M4A3(105)W, one of two Sherman tanks in the museum
What you may find in the museum (2013):
M3A1 Stuart tank
M5A1 Stuart VI
M4A1(75) Sherman tank
M4A3(105)W Sherman tank
M24 Chaffee tank
M7 Priest
M8 Armored Car 'Greyhound'
LVT landingcraft (2X)
Pacific Car and Foundry M26 Tankrecovery truck

DUKW
Jeep
M3 Half Track
GMC truck
Dodge WC54 ambulance
A Citroen Traction in IFF colours (black)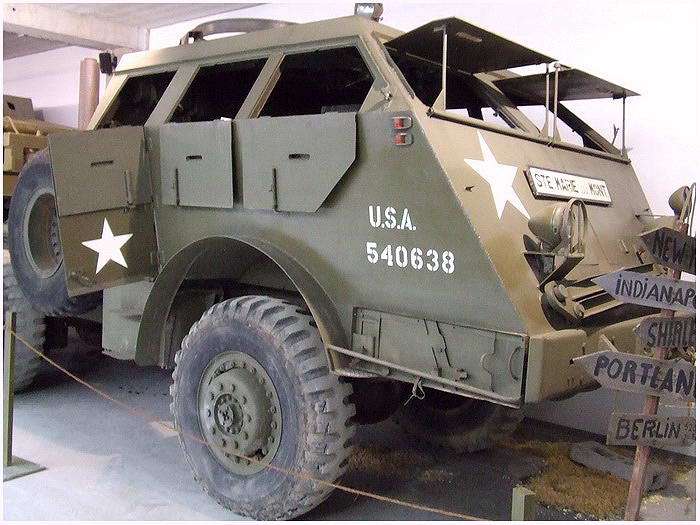 The Pacific Car and Foundry M26 Tankrecovery
with on the trailer (just out of the picture) an LVT landingcraft
Motorcycles:
Harley Davidson Liberator (2X)
BMW R75 with sidecar (in desertcolors)
Paratrooper minimotorcycle
Aircraft:
Boeing Stearman
Piper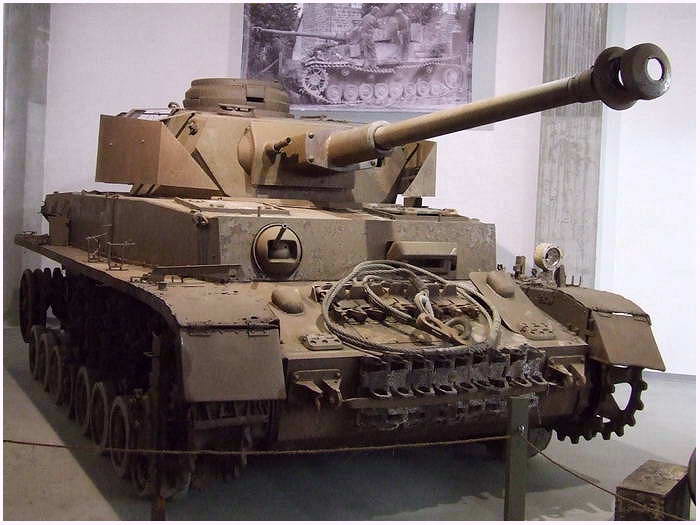 The German PzKpfw IV Ausf G is in need of a brush of paint,…
At the moment, there are two Sherman tanks in the museum. A third can be found on a hill, beside the highway N13/E46 (see picture at the bottom of this page). Are all of the vehicles of Allied nature, one is obviously not, that is a German PzKpfw IV Ausf G. There are a couple of dioramas where they show how wounded were treated. In some places clips of film are shown through beamers, and one can even 'play' on a virtual screen and have a look into some tanks. But on the education front, a lot can be improved.
The entry price is €8,50 (adult), €6,50 (child of 12 years). Second Worldwar veterans are free of charche. The Normandy Pass gives you 2 Euro reduction. In the high season the museum is open from 09.00 to 18.00, in the low season from 10.00 to 17.00.
On the next page we continue our trip to the sector, known UTAH BEACH,
for a visit to, Ste-Mere-Eglise, the Battery of Crisbecq and Azeville.
Click on the picture below, the tank beside the highway N13/E46,
of the 'Normandy Tank Museum'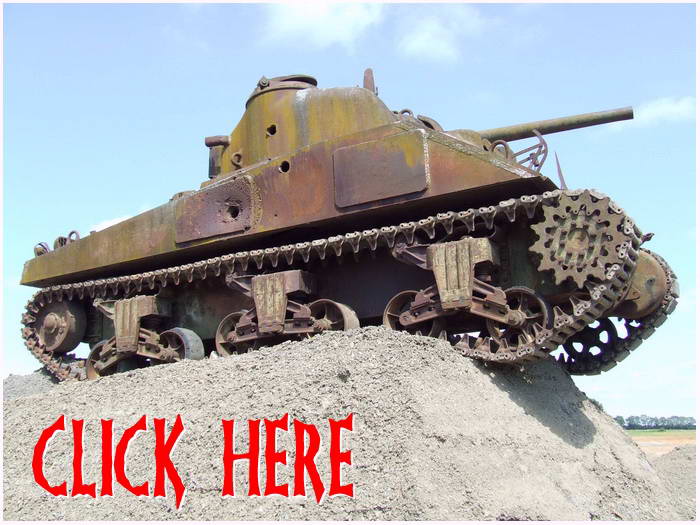 ---