THE LONGEST DAY
The Stills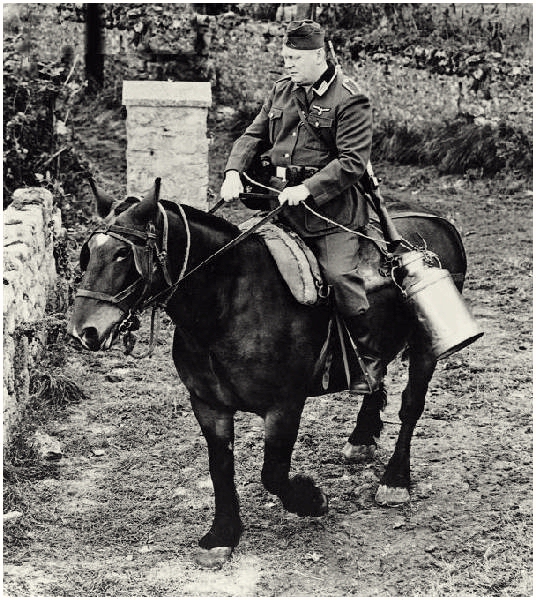 Sergeant Kaffeeklatsch (Gert Froebe)
is getting in a moment the greatest shock of his live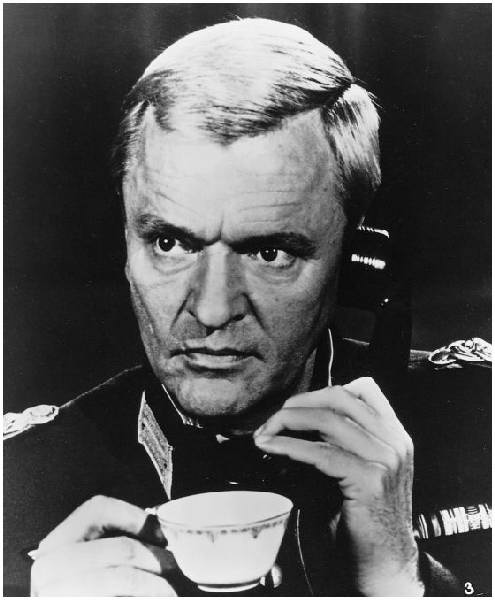 Lieutenant Colonel Ocker (Peter van Eyck) doesn't believe a word Major Pluskat,
on the other side of the line, is telling him, that there are 5000 ships moving his way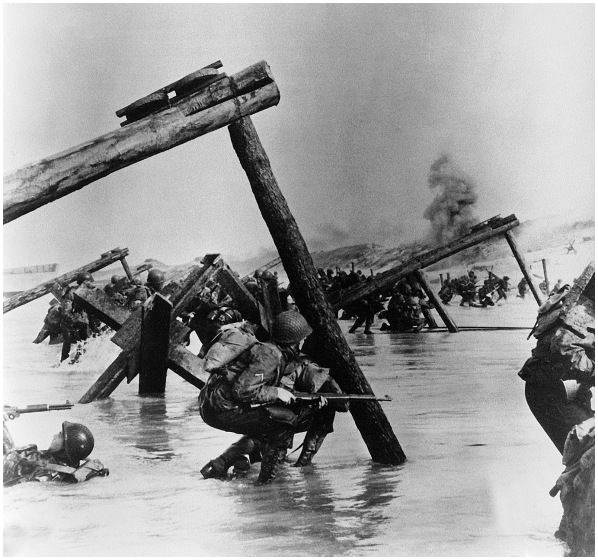 116th Regiment, 29th Infantry Division storm Omaha Beach,...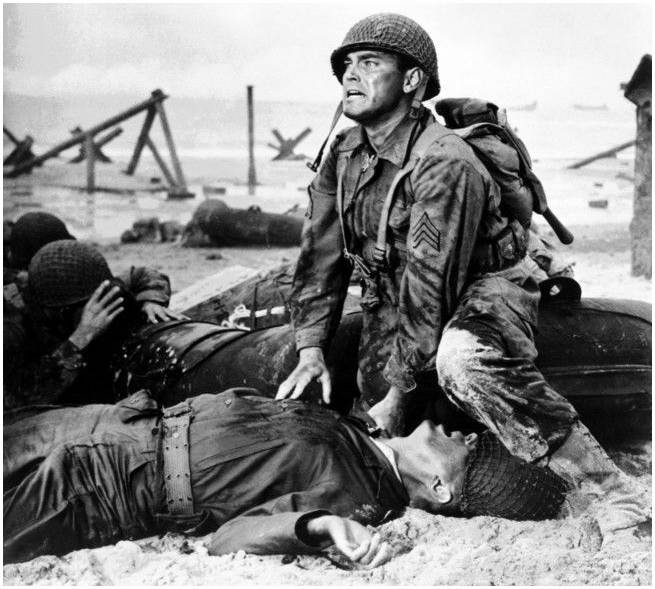 ... and suffer great losses. Sgt. Fuller (Jeffrey Hunter) yells for a medic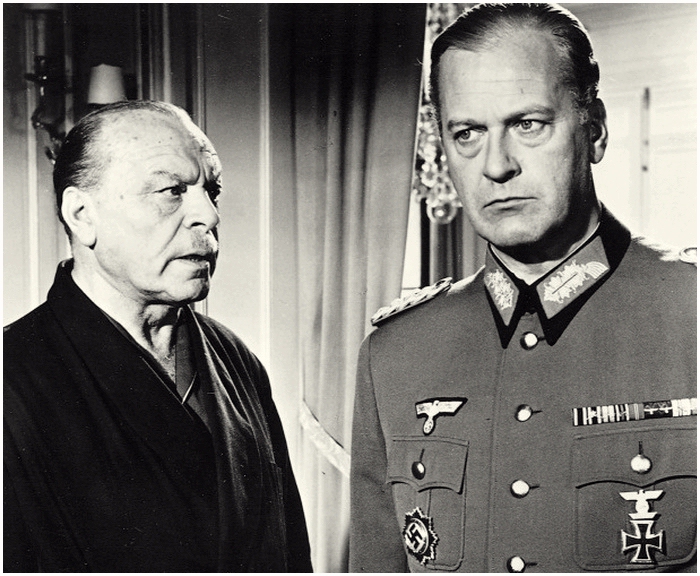 Von Rundstedt (Paul Hartmann) orders Blumentritt (Curt Jurgens)
to ask Hitler to release the Panzer reserves
(but Hitler is asleep and can't be disturbed)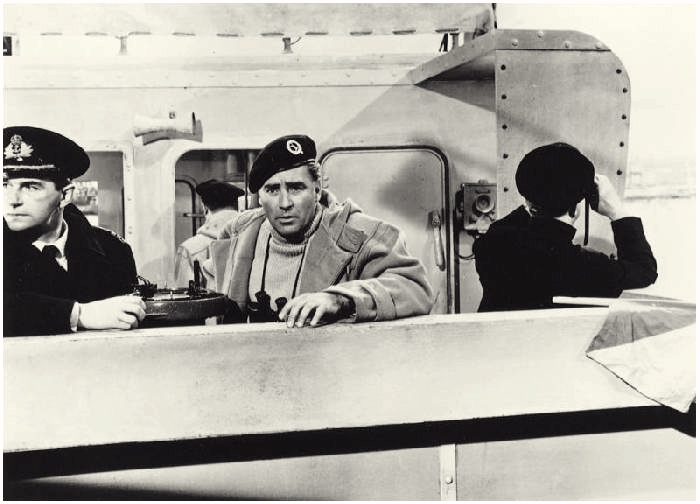 Lord Lovat (Peter Lawford) approaches Sword Beach,...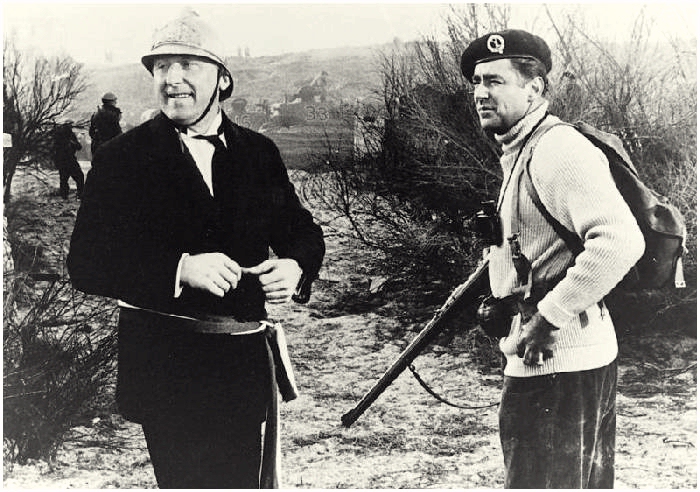 ... here he runs into the mayor of Colleville (Bourville)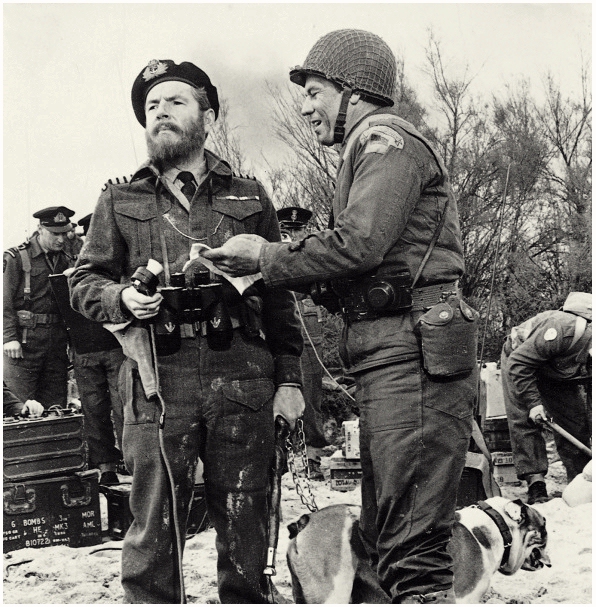 Beachmaster Capt. Colin Maud (Kenneth More) doesn't have the time
to be bothered by a 'war correspondent'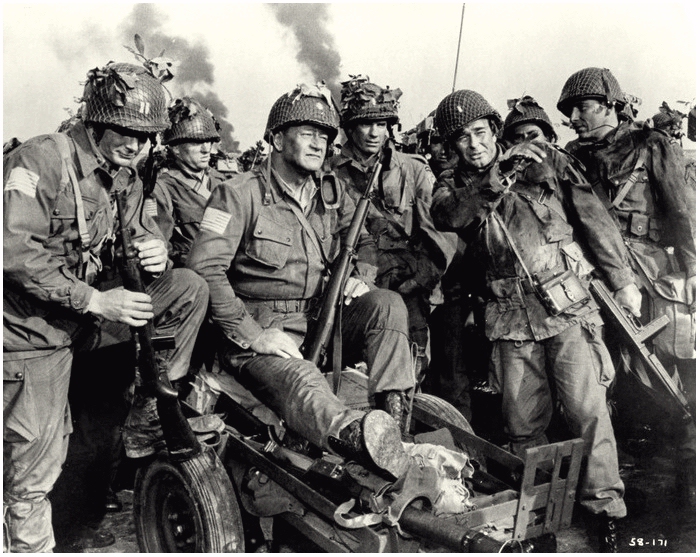 Lt. Sheen (Stuart Whitman) is pointing out the situation
at Ste-Mère-Eglise to Lt.Col. Vandervoort (Wayne)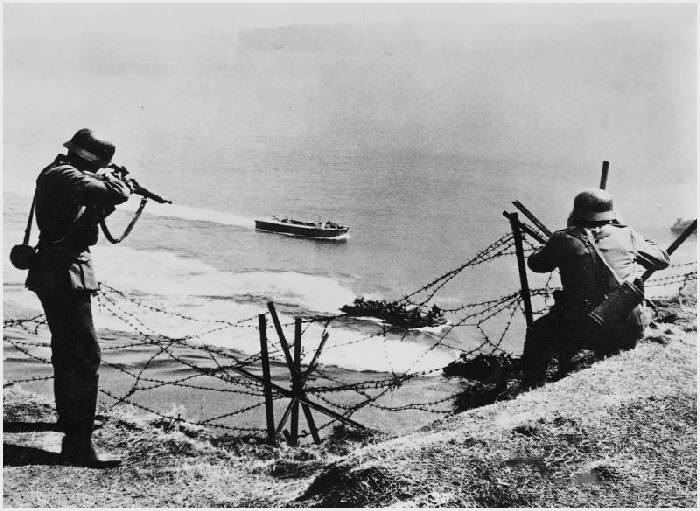 2nd Battalion, US Rangers approaching Pointe du Hoc,...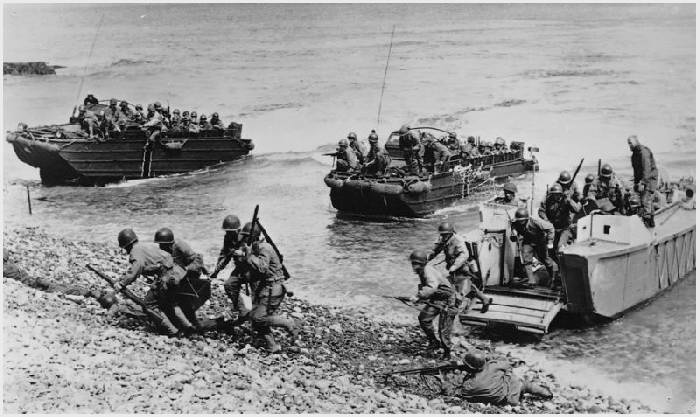 ... moments later the storming of the complex begins,…
>... with rope ladders and enter hooks the Rangers start their climb to the top,…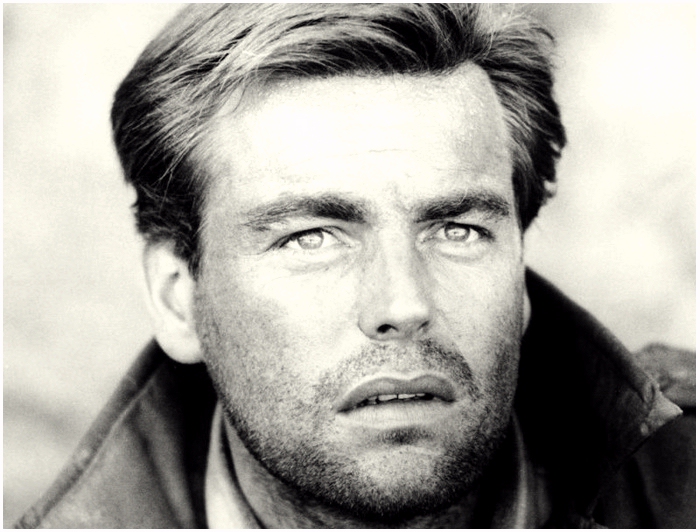 ... where this Ranger (Robert Wagner) also discovers that the guns are not placed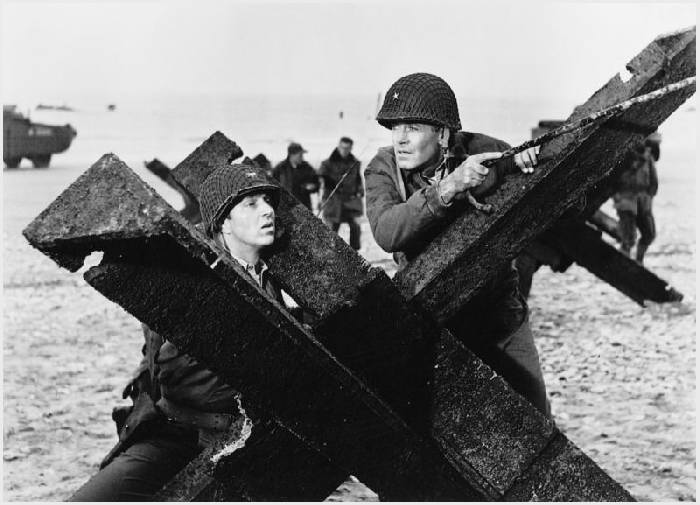 At Utah Beach Brig.Gen. Teddy Roosevelt Jr. (Henry Fonda) points out
where he wants his headquarters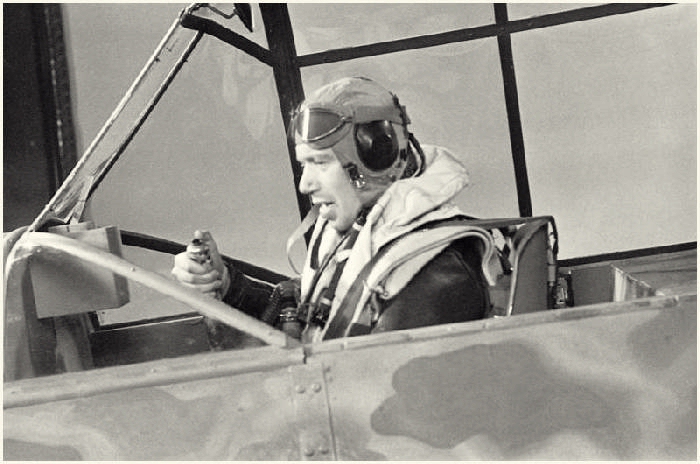 In the studio, with background projection, Heinz Reincke (Priller) begins his attack
over the beaches of 'Gold and Juno' (westward towards 'Omaha',
but in the movie they fly to the east towards 'Sword' Beach)
together with his wingman 'Bergsdorf' (at the time it was Heinz Wodarczyk)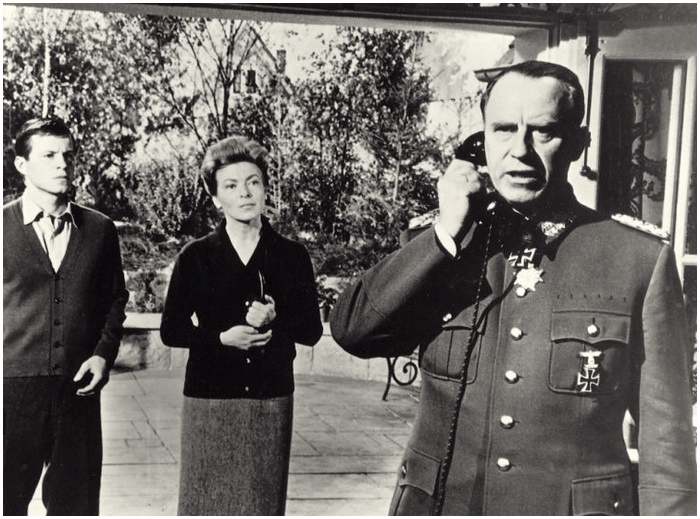 Erwin Rommel (Werner Hinz) is flabbergasted to hear that the Allied invasion has started,...
'Normandy?!,... Normandy?!'
Manfred (Michael Hinz) and Frau Rommel (Ruth Hausmeister) realize that the party is over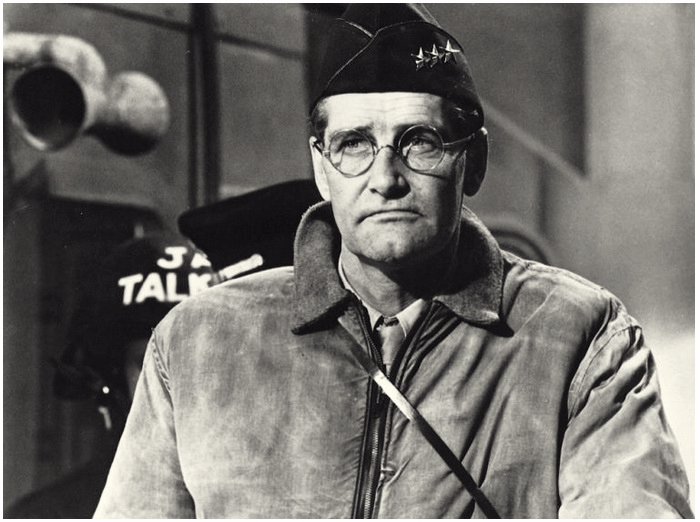 Lt. General Omar Bradley receives disturbing messages from Omaha Beach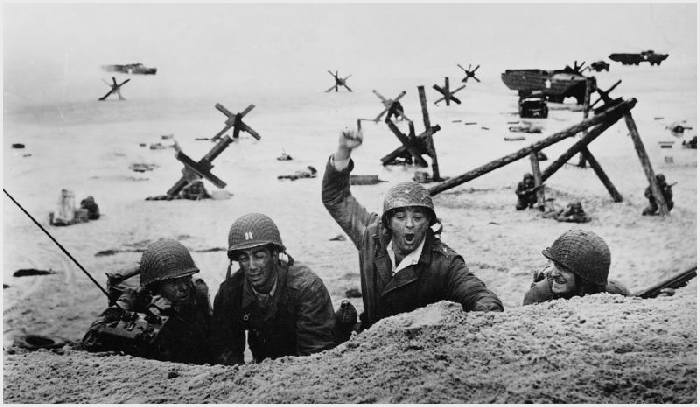 But General Cota (Robert Mitchum) saves the day with his inspirational attitude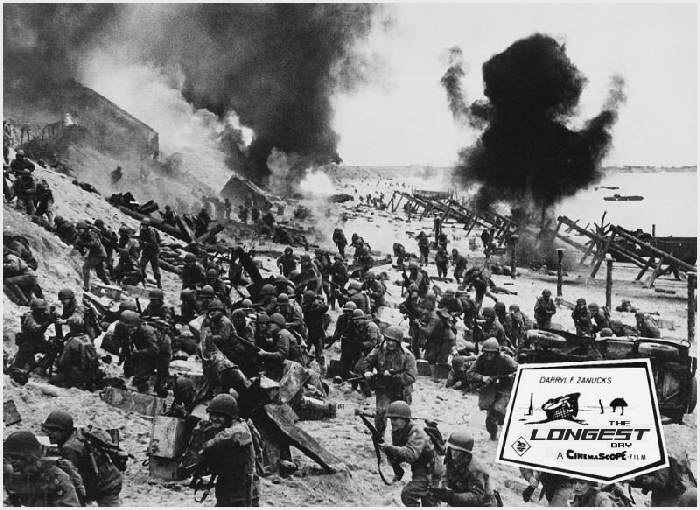 The survivors on Omaha taking up positions for a break out,…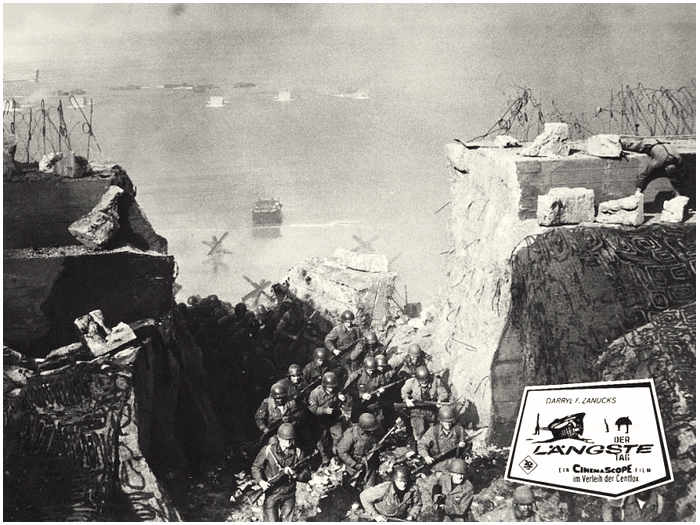 ... moments later, when the seawall is breached, they storm into 'Vierville' (Île de Ré)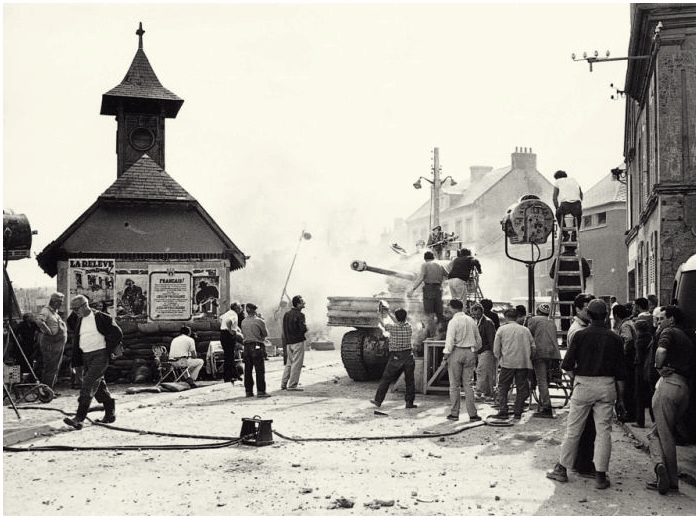 Port-en-Bessin, the place where the attack on the casino of Ouistreham was reenacted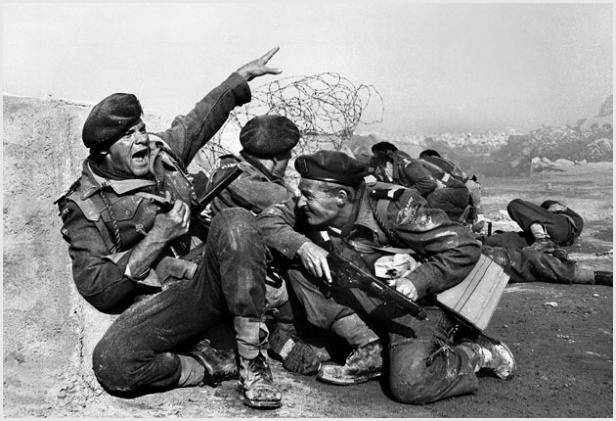 French commando leader Kieffer (Christian Marquand), and his troops,
are stopped by German fire coming from the casino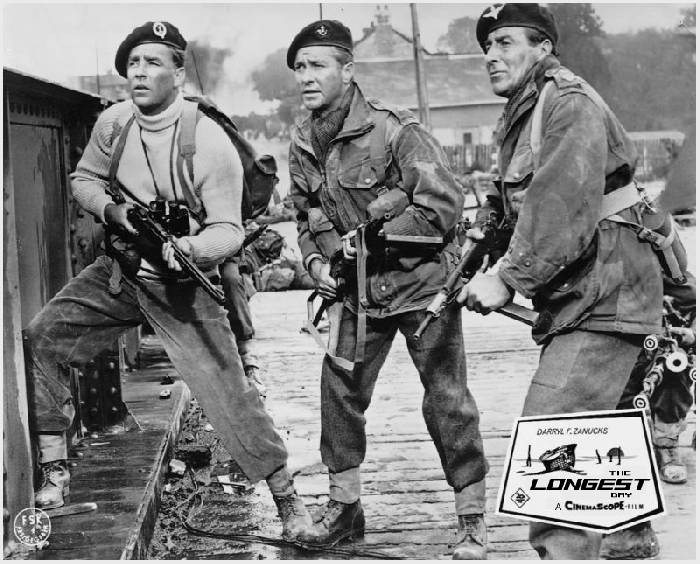 >Lord Lovat (Peter Lawford) arrives with his commando's,
to relieve Major Howard (Richard Todd) and his paratroopers at Pegasus Bridge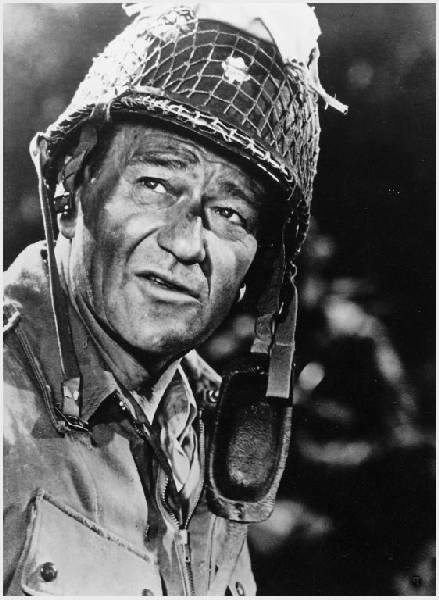 Lt.Col. Vandervoort (John Wayne) and his troops have secured Ste-Mère-Eglise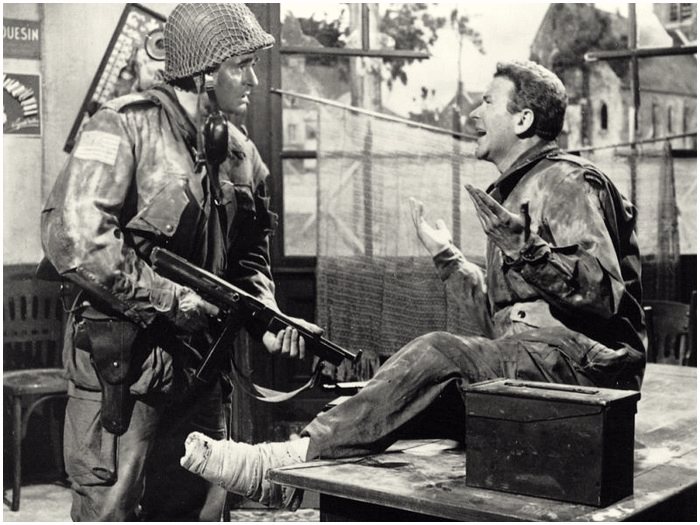 John Steel (Red Buttons) explains to Lt. Sheen (S. Whitman) that he is deaf,
because he hung for eight hours beside the ringing bells of the tower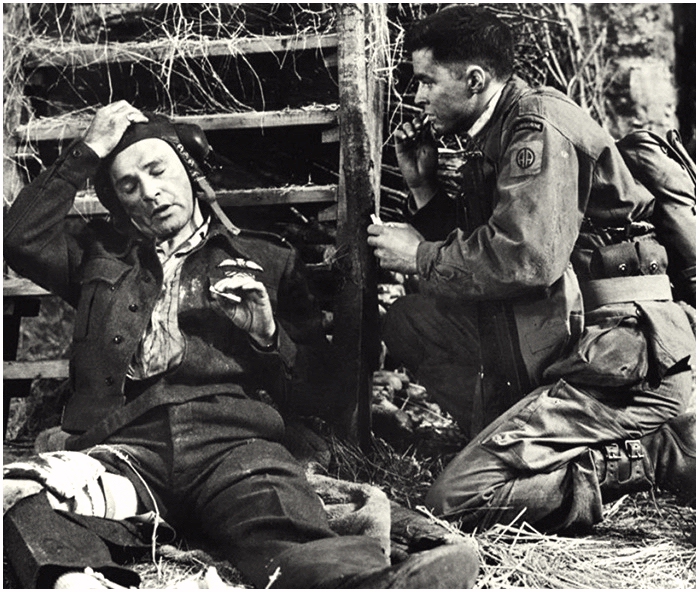 Also Fl.Off. Campbell (Richard Burton) is wounded
and is getting support from 'Dutch' Schultz (Richard Beymer)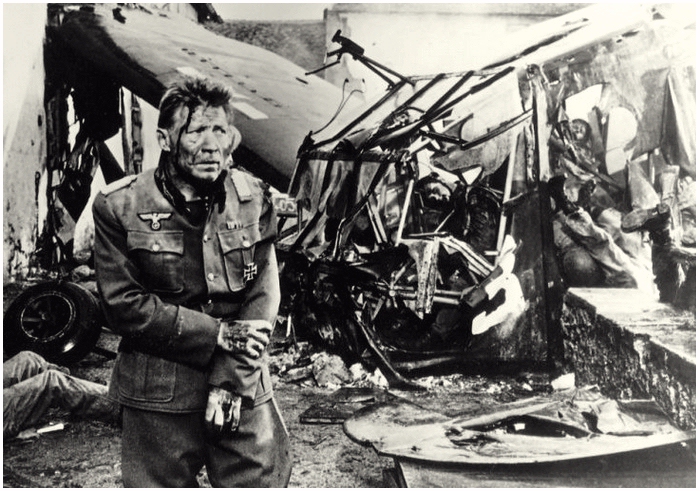 A 'deleted' scene,...
Major Pluskat (Hans Christian Blech) standing wounded besides a crashed Allied WACO zwever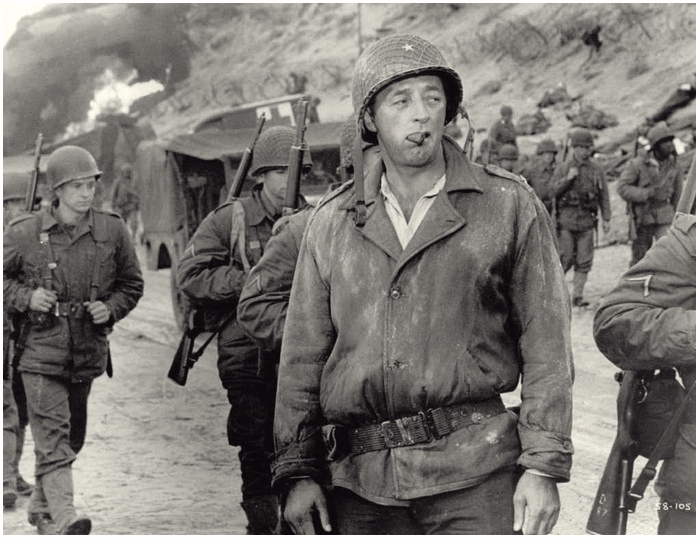 General Cota (Mitchum) is satisfied to see his men exit 'Omaha Beach' (Île de Ré).
(These folks don't realise that once here on this beach, filmhistory was made)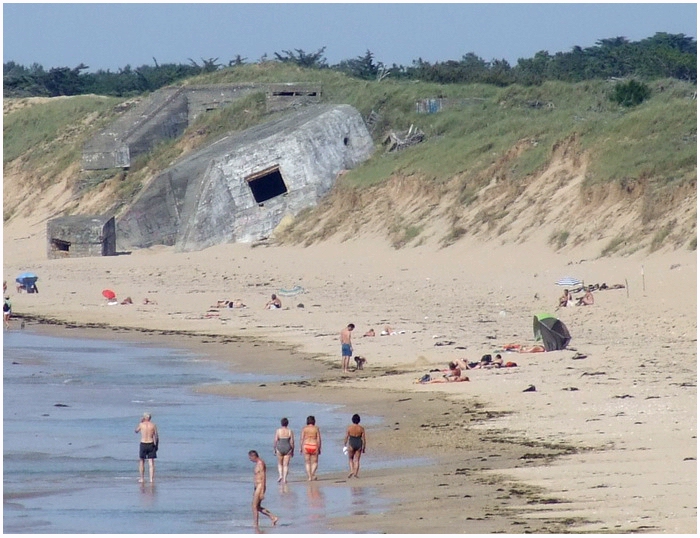 Finally 'The Longest Day' comes to an end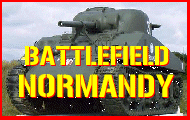 ---