THE LONGEST DAY
The Stills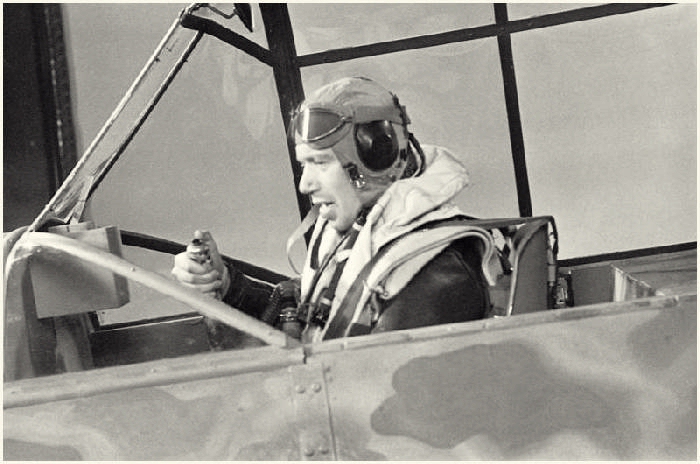 In the studio, with background projection, Heinz Reincke (Priller) begins his attack
over the beaches of 'Gold and Juno' (westward towards 'Omaha',
but in the movie they fly to the east towards 'Sword' Beach)
together with his wingman 'Bergsdorf' (at the time it was Heinz Wodarczyk)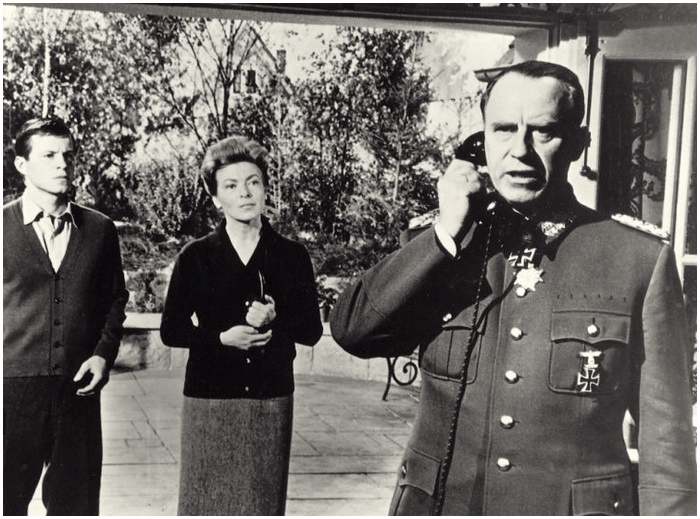 Erwin Rommel (Werner Hinz) is flabbergasted to hear that the Allied invasion has started,...
'Normandy?!,... Normandy?!'
Manfred (Michael Hinz) and Frau Rommel (Ruth Hausmeister) realize that the party is over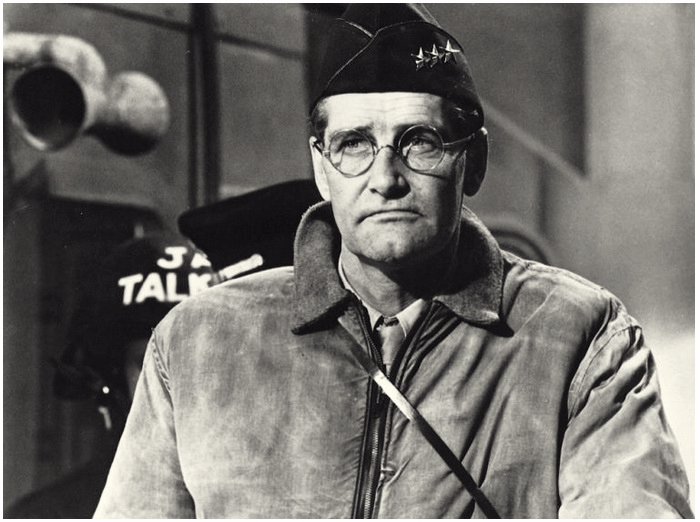 Lt. General Omar Bradley receives disturbing messages from Omaha Beach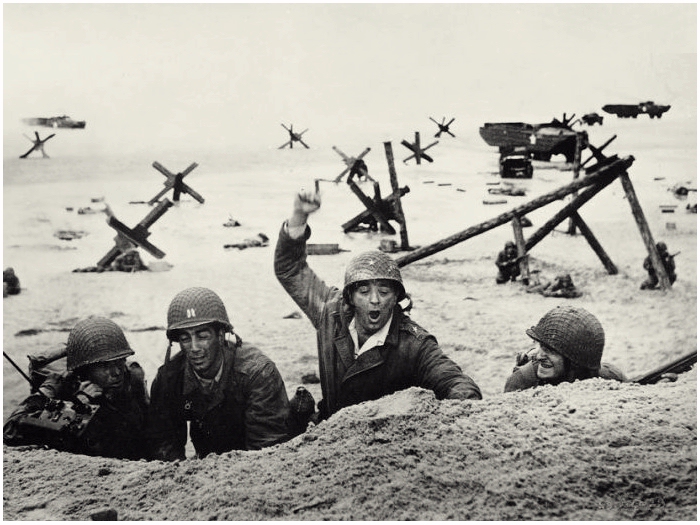 But General Cota (Robert Mitchum) saves the day with his inspirational attitude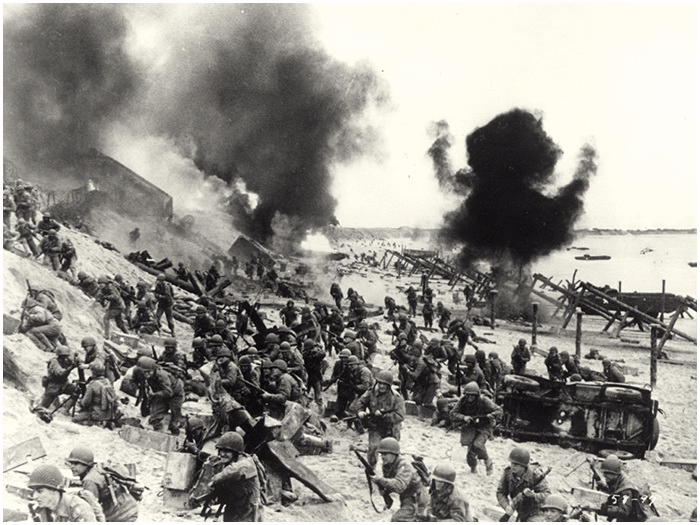 The survivors on Omaha taking up positions for a break out,…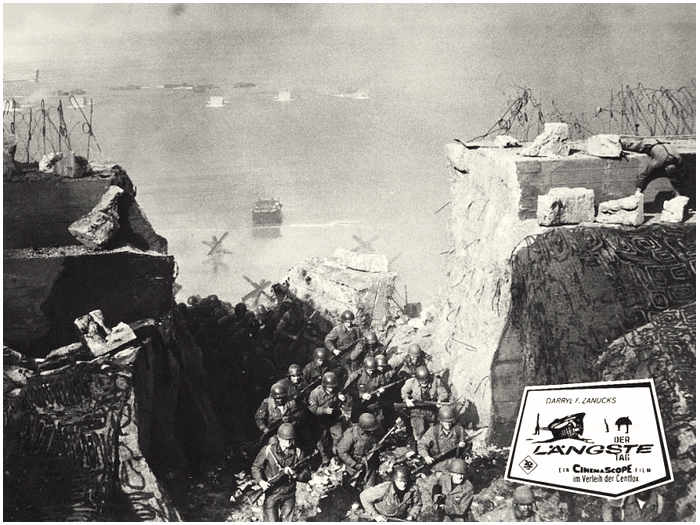 ... moments later, when the seawall is breached, they storm into 'Vierville' (Île de Ré)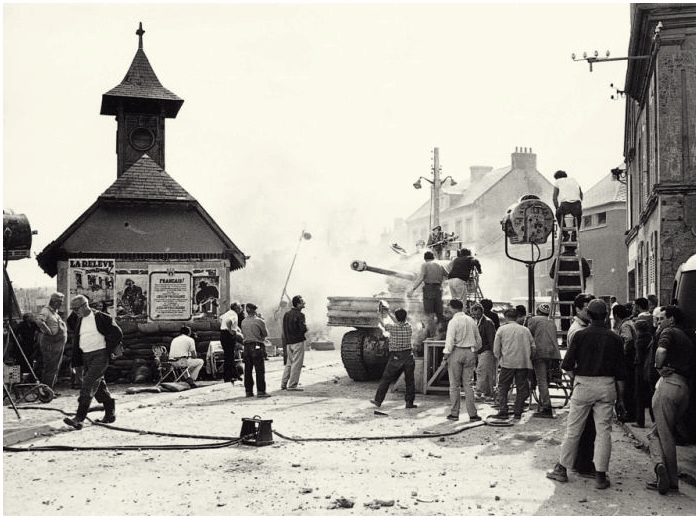 Port-en-Bessin, the place where the attack on the casino of Ouistreham was reenacted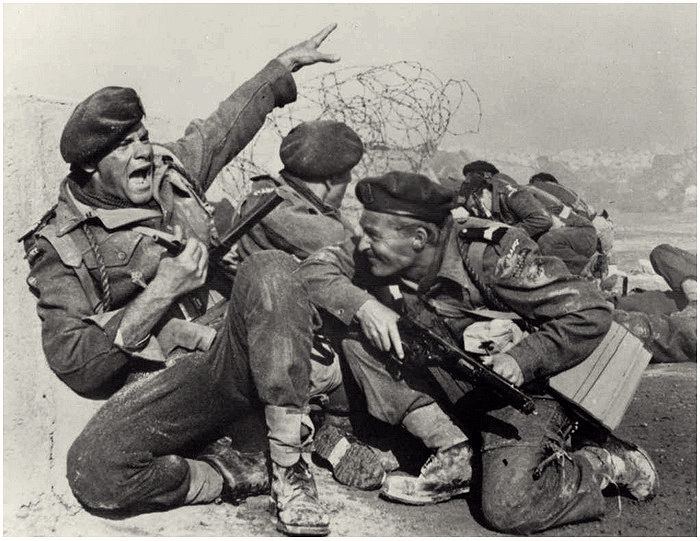 French commando leader Kieffer (Christian Marquand) and his troops
are stopped by German fire coming from the casino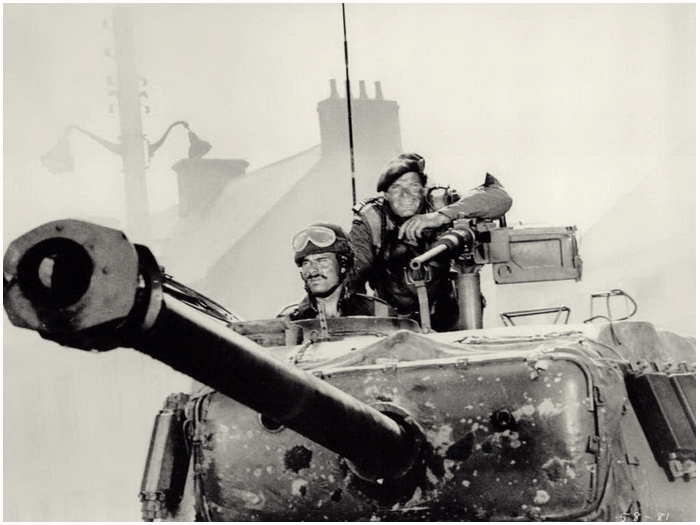 At the end, Kieffer decides to collect a Sherman tank,
and this does te trick, after a couple of rounds the casino collapses,...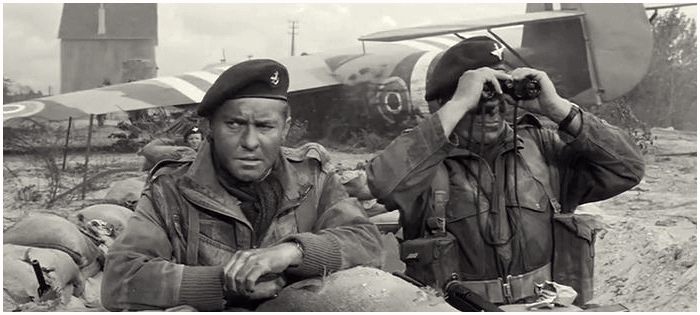 At Pegasus Bridge, Major Howard (Richard Todd) could swear he hears bagpipes playing,...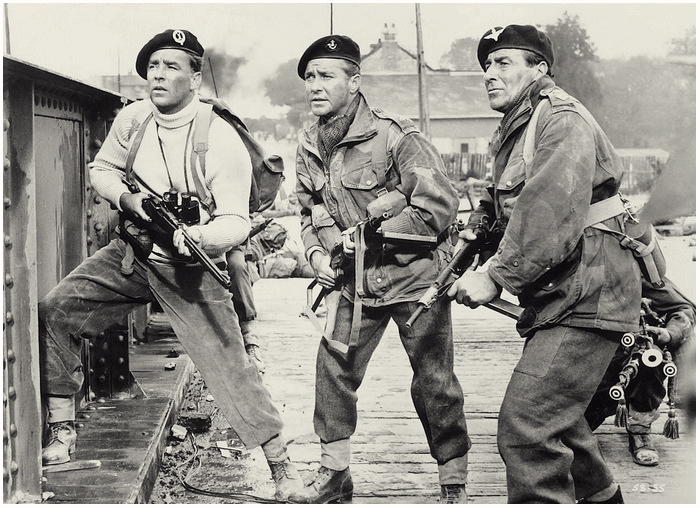 Moments later Lord Lovat (Peter Lawford) arrives with his commando's,
to relieve Major Howard and his paratroopers at Pegasus Bridge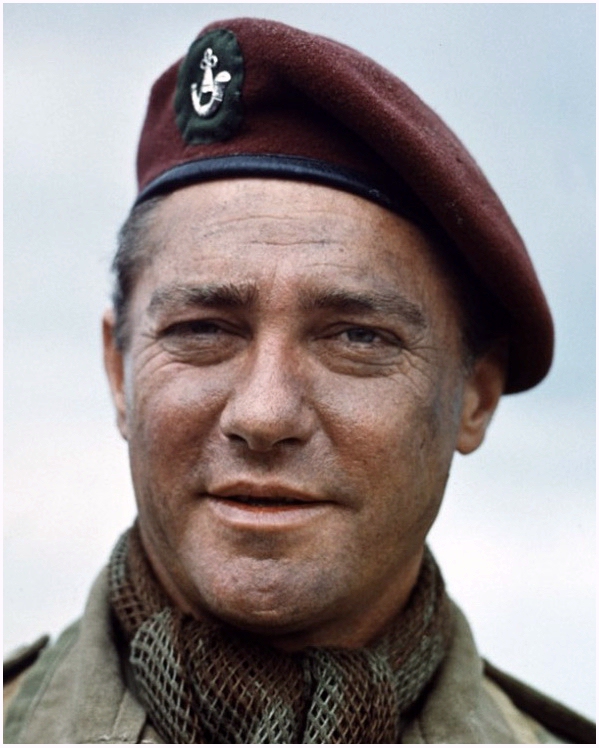 Major Howard succeeded, suddenly remembers his order; 'Hold, untill relieved,...'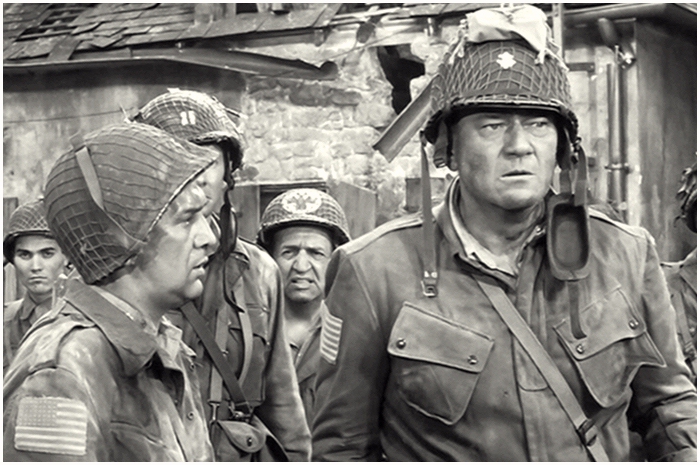 Lt.Col. Vandervoort (John Wayne) is shocked when he sees 'his'
paratroopers hanging from poles and trees in Ste-Mère-Eglise ziet hangen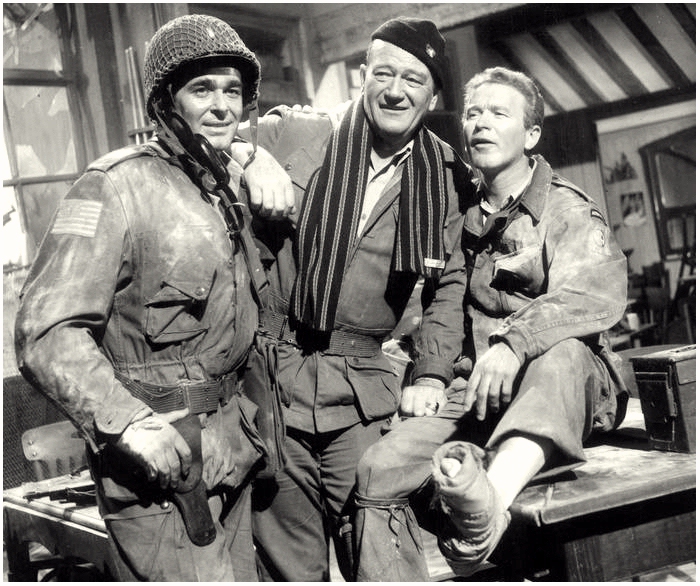 They look 'good' pals,... but Wayne was, because of his deal
for the contract, not that populair on the set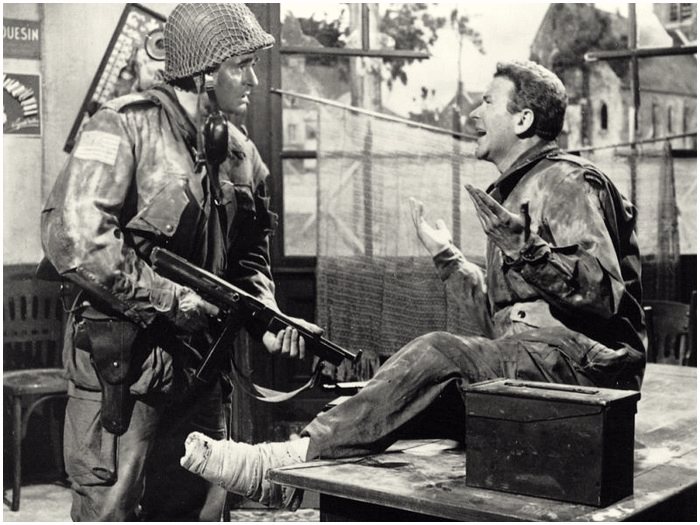 John Steel (Red Buttons) explains to Lt. Sheen (S. Whitman) that he is deaf,
because he hung for eight hours beside the ringing bells of the tower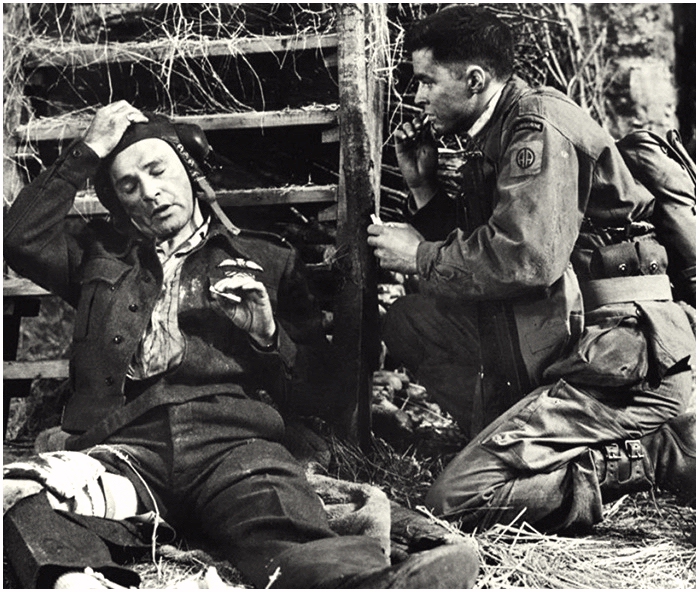 Also Fl.Off. Campbell (Richard Burton) is wounded
and is getting support from 'Dutch' Schultz (Richard Beymer)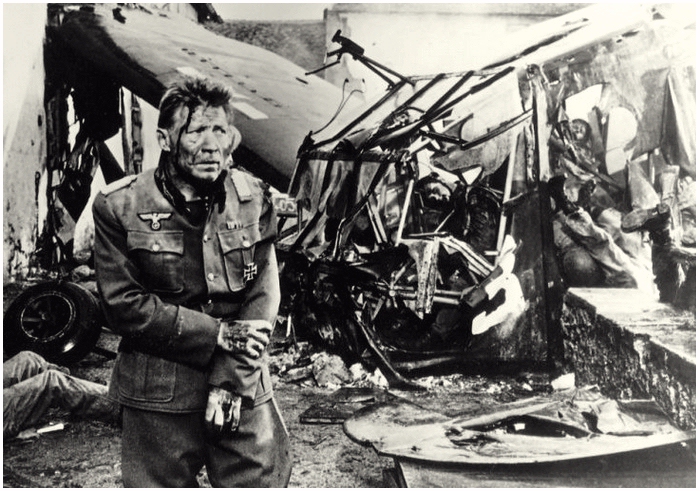 A 'deleted' scene,... Major Pluskat (Hans Christian Blech)
is standing wounded besides a crashed Allied WACO glider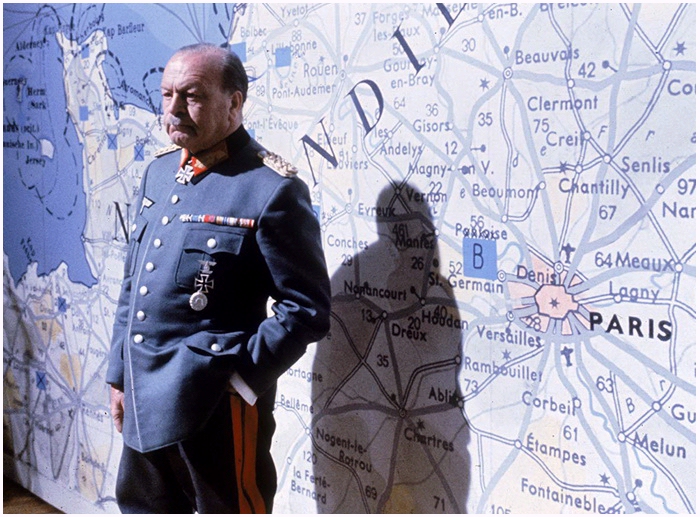 Field Marshal Von Rundstedt realizes that he can not stop the Allied invasion,...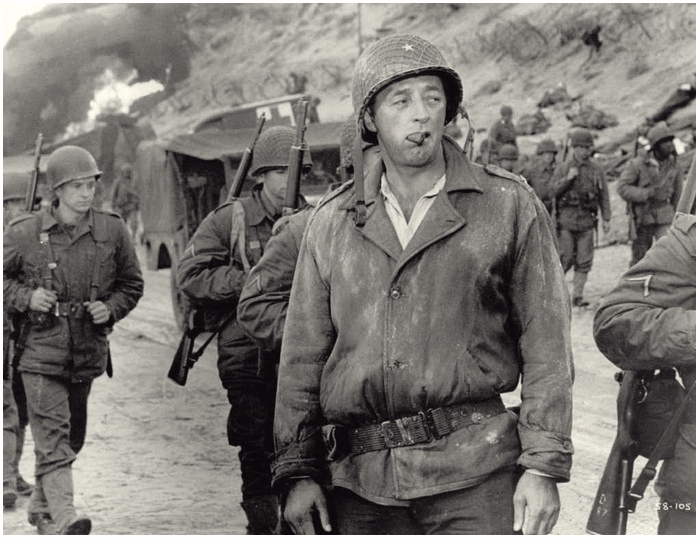 General Cota (Mitchum) is satisfied to see his men exit 'Omaha Beach' (Île de Ré).
(The folks below don't realise that once here on this beach, filmhistory was made)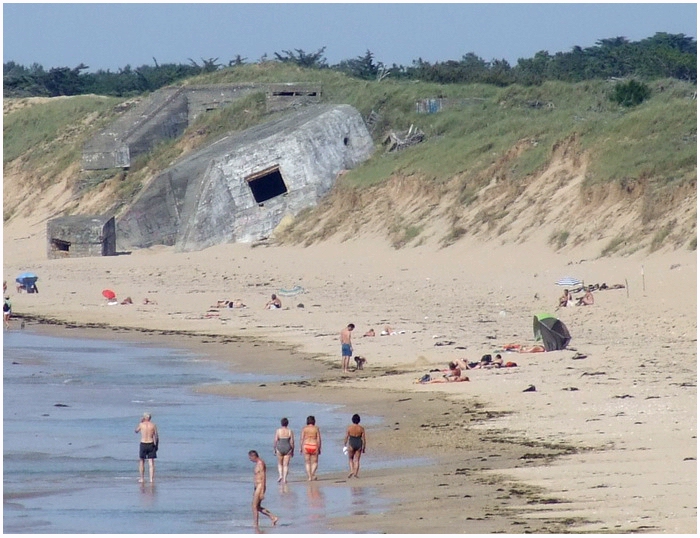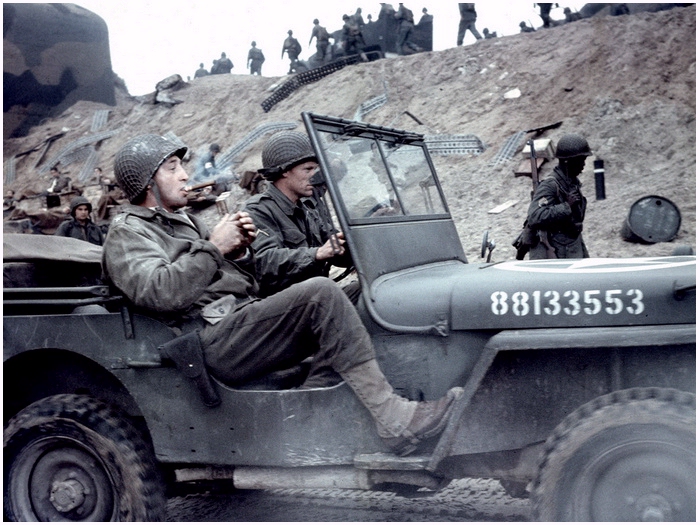 Robert Mitchum gets in a Jeep and leaves Omaha Beach,... this was
'The Longest Day'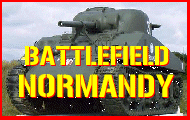 ---