For the one who is interested in numbers and figures, below are some statistics that show you what was needed for 'Operation Overlord'. Also you'll find the 'Cold Statistics', which show the losses (roughly) in human life during the Battle for Normandy.
THE BUILT UP OF THE TROOPS IN JUNE 1944 (IN GREAT BRITAIN):
Naval Task Forces
and Commanders

Western
Rear-Adm A. G. Kirk USN

Eastern
Rear-Adm Sir P. Vian RN

Assault Phase

Warships

Warships

Battleships

3 US

3 RN

Cruisers

10 (5 RN, 3 US, 2 French)

13 (12 RN, 1 Allied)

Destroyers
& escorts

51 (11 RN, 36 US, 4 French)

84 (74 RN, 3 French, 7 Allied)

Other warships, incl. minesweepers & coastal forces

260 (135 RN, 124 US, 1 Allied)

248 (217 RN, 30 US, 1 Allied)

Total Warships

324 (151 RN, 166 US, 6 French, 1 Allied)

348 (306 RN, 30 US, 3 French, 9 Allied)

Major Amphibious Forces

Landing & Ferry Vessels

Landing & Ferry Vessels

LSIs, landing ships
& craft

644 (147 RN, 497 US)

955 (893 RN, 62 US)

Ferry service vessels
& landing craft

220 (RN & US)

316 (RN & US)

Totals incl. Warships

1,188

1,619

Plus minor landing craft
(LCVP/LCA)

836

1,155

Total LCVP/LCA

1991

Grand Total US & RN

4798
For more on landing craft
CLICK HERE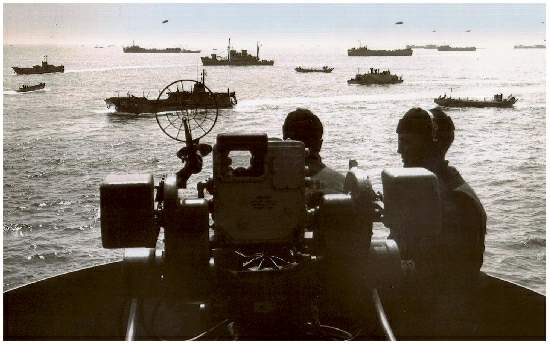 To this can be added the following:
(1) Home Command for follow-up escort and Channel patrols, plus reserves:
1 battleship (RN);
118 destroyers and escorts (108 RN, 4 US, 1 French, 5 Allied);
364 other warships including coastal forces (340 RN, 8 French, 16 Allied).
(2) Western Channel Approaches A/S Escort Groups and reserves:
3 escort carriers (RN),
55 destroyers and escort vessels (RN).

(3) Merchant ships in their hundreds - mainly British liners, tankers, tugs, etc to supply and support the invasion and naval forces.
(4) British 'Mulberry' harbour project of two artificial harbours and five 'Gooseberry' breakwaters including:
400 'Mulberry' units totalling 1.5 million tons and including up to 6,000-ton 'Phoenix' concrete breakwaters;
160 tugs for towing;
59 old merchantmen and warships to be sunk as blockships for the 'Gooseberries'. All were in place by the 10th June.
THE AIR FORCE ON JUNE 6th, 1944:
3440 heavy bombers, 930 medium bombers, 4190 fighters/ fighter-bombers, 1360 troop transport planes, 520 reconnaissance planes, 80 Sea/Air Rescue, 1070 Coastal Command
Total: 11.590 (6080 American and 5510 British)
3500 Gliders (Horsa, Hamilcar and Waco)
Spitfire Mk IX MK732, from No. 485 (RNZAF) Squadron, as it flew on D-Day
(restored and flies in Holland).
---
THE STATISTICS IN NORMANDY
UNITS LANDED ON JUNE 6, 1944:
132.715 soldiers landed on June 6, 1944 on the beaches of Normandy:
75.215 British, Canadian and French troops,
57.500 American troops
PARA DIVISION DROP ON JUNE 6, 1944:
23.490 paratroopers landed on Juni 6, 1944 in Normandy:
7.900 British paratroopers (6th Airborne Division),
15.500 American paratroopers (82nd & 101st Airborne Divisions)
ALLIED LOSSES ON JUNE 6, 1944:
10.800 killed, wounded or missing (1/14)
(for details, see 'The Cold Statistics' below)
BROUGHT ASHORE VEHICLES:
438.491 vehicles were brought ashore (untill 31 august, 1944)
202.789 British and Canadian
235.682 American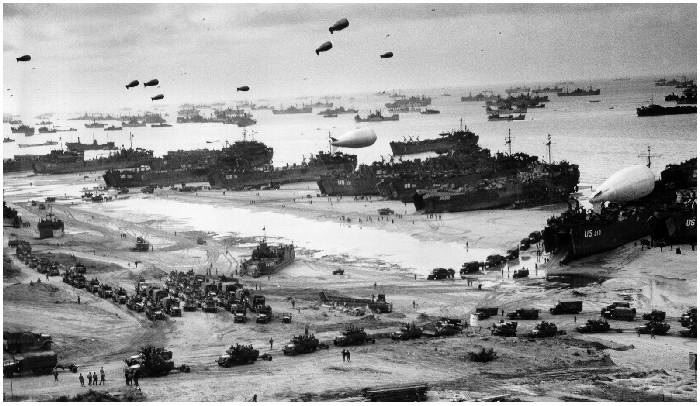 ---
THE COLD STATISTICS
In army terms the word 'casualties' is used. One is to think that this covers the 'killed in action' figures. This is not the case. That's why you'll find, because of the confusing reports, contradicting numbers for the losses during and after battles. A 'casualty' of war means, 'no longer fit for battle', wounded, killed or missing. In that perspective it shows that the losses in human life were less dramatic than sometimes pictured. Below are the numbers of casualties in the first days during and after the landings in Normandy (on the Allied side). As you may notice, the list of missing is enormous. Still to this day, human remains are found. But in most cases, the missing men will never be found, they were simply wiped of this earth by bombblast, or incinerated by fire.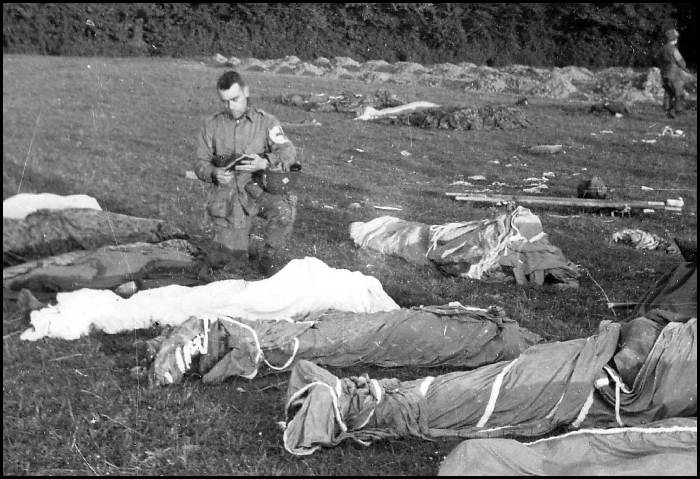 6 June 1944:
For years the exact number of victims of the Allies was uncertain. The US National D-Day Memorial Foundation did an inquest and the number was much higher then ever was thought. The US National D-Day Memorial Foundation checked all the Allied troops that were killed on the 6th of June 1944, during Operation Overlord. It has been confirmed that 2499 Americans were killed on D-Day and 1915 of the other Allied nations, a total of 4414 dead (and the number will increase when the still missing are counted into it).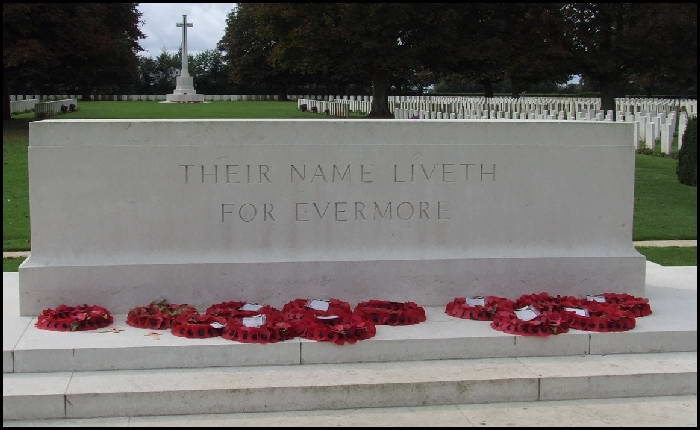 The losses on the British beaches on 6 June were for GOLD Beach around a 1000 men, and for SWORD Beach the same. The 6th Airborne had 600 killed and the same number for the missing. Under the gliderpilots a 100 were casulties.
The losses on 6 June for the 3rd Canadian Division on JUNO Beach were 340 killed, 574 wounded and 47 were made prisoner.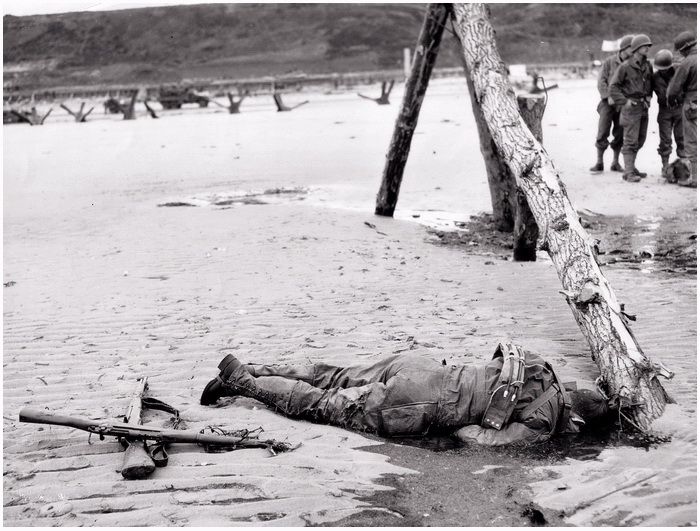 Maybe the most heartbreaking picture from Omaha Beach
From 6 June to 10 June, 1944, D-DAY + 4:
101st Airborne Division, consisted of 8451 paratroopers.
137 killed, 482 wounded, 2000 missing, a total on casualties: 2619 men
82nd Airborne Division, consisted of 7534 paratroopers.
84 killed, 936 wounded, 200 missing, 10 made prisoner, a total on casualties: 1235 men
OMAHA BEACH D-Day + 4
1st Infantry Division: 124 killed, 1083 wounded, 431 missing, a total on casualties: 1638 men
29th Infantry Division: 280 killed, 1027 wounded, 890 missing, a total on casualties: 2210 men
Other units on OMAHA Beach: 148 killed, 656 wounded, 599 missing, a total on casualties: 1373 men
The American forces lost during the first four days, 5221 men on OMAHA Beach alone.
From 6 June till 20 June, 1944:
US First Army lost 24.126 men: 3082 killed, 13.121 wounded and 7959 missing.
The British lost 13.572 men: 1842 killed, 8599 wounded and 3131 missing.
The Canadian lost 2815 men: 363 killed, 1359 wounded and 1093 missing.
THE GERMAN CASUALTIES
After intensive investigations it is impossible to give exact figures on the German losses in the first days after the allies landed in Normandy. The figures range from 4000 to even 9000. A report from Erwin Rommel, end of June, speaks of the losses in that month of '28 Generals, 345 commanding officers and about 250.000 men'.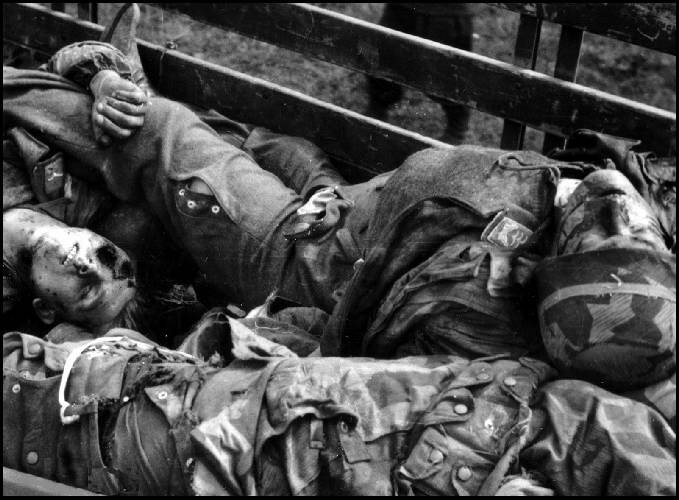 Killed German para's of the 6th Fallschirmjager Regiment
The total losses from June 6th, 1944 till 22 August, D-DAY + 77 on the Allied side where; 200.000 men, among them almost 37.000 killed.
Under the French population there were at least 100.000 victims, civilians and Résistance.
Together with the German losses, about 400.000, the total figure on casualties run around the 700.000 men in 77 days of battle. In perspective, the Battle of the Somme, one of the bloodiest from the First World War, that was fought over a period of 141 days, the losses were at least 1.250.000 on German, British and French troops. In comparison, the Battle for Normandy was just as bloody as the fighting on the western front in the First World War.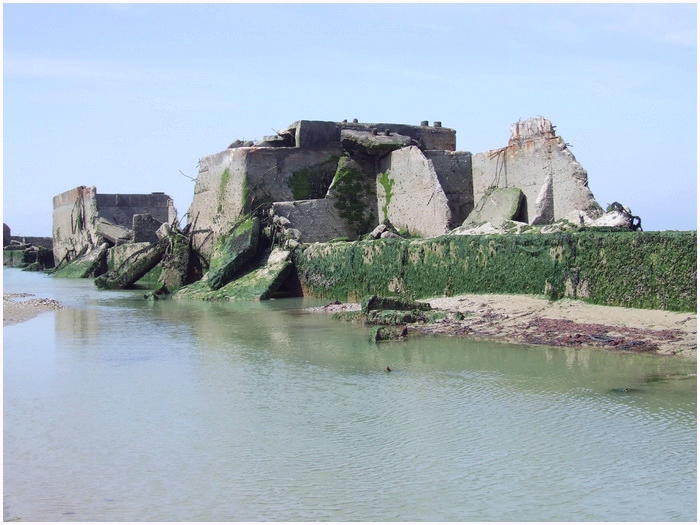 Symbol of wars, perishable objects as a memory,
the Mulberry Harbour is slowly rotting away
back
---