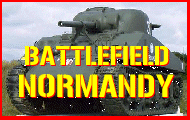 WORKS OF DEFENCES, THE ATLANTIC WALL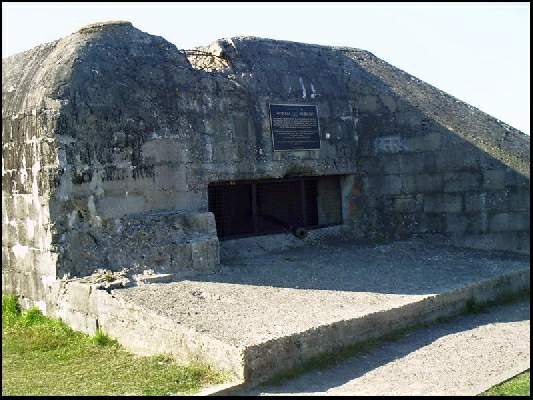 The H667, Wiederstandnest 65 (Wn 65) at Saint-Laurent
Due to the lack of space on the other pages I didn't go too deep into the matter of bunkers and casemates that are scattered along the French coast. On this page you'll find some information about the various forms of these concrete monsters. We follow the route from Ouistreham (Sword Beach) all the way up to Cherbourg and visit some special complexes and solitaire objects. Sometimes I will refer to a object already mentioned on other pages, (for instance) Battery of Merville, Wn 01). Because some objects are complete overgrown with weeds or are on private property it is sometimes impossible to visit these sites. One thing that attracts attention is that the casemates on the coast all have their guns pointed over the beaches and that these guns are protected by a thick wall of concrete against incoming shells from ships (see the picture above). The German guns that had to fire at the allied invasion fleet were placed more inland and pointed their guns direct at sea (see Battery of Longues).
'HILLMAN' COMPLEX, WN 17 (Sword Beach)
A complex of bunkers that was not mentioned earlier is Wiederstand Neste 17, code-named by the allied as 'Hillman'. You can find this complex near the little town of Colleville-Montgomery, a few kilometres before entering Ouistreham, along side a country road between Biéville-Beuville and Colleville (this is a different Colleville than the one near Normandy American National Cemetery and Memorial is located). On this terrain are the bunkers that housed the headquarters of the German 736th Grenadier-Regiment. It was on top of a flat hill and that's why it was very difficult to approach. The Suffolk Regiment, with the help of a platoon of the 13th/18th Hussars, finally took the complex after a bloody fight, man to man .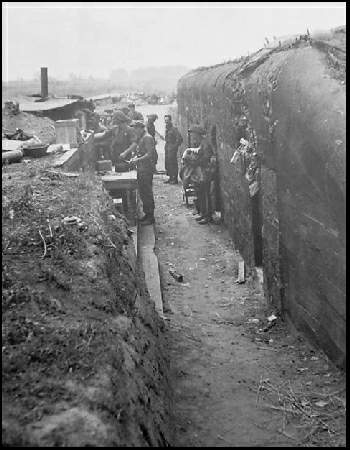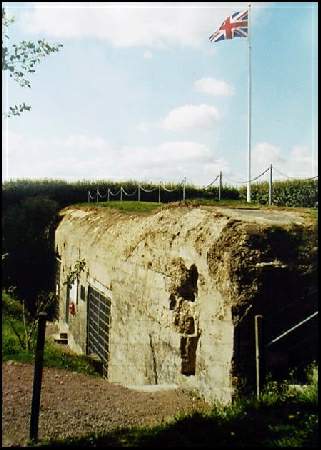 The 'Hillman' complex, Wn 17... Then and Now
The complex is now complete restored after years of neglecting and is free to visit. Because there are almost no visitors to this place, it is quit eerie to wander around Wn 17, 'Hillman'. It is a cold place that stands as a lonely memorial for the killing that took place over here.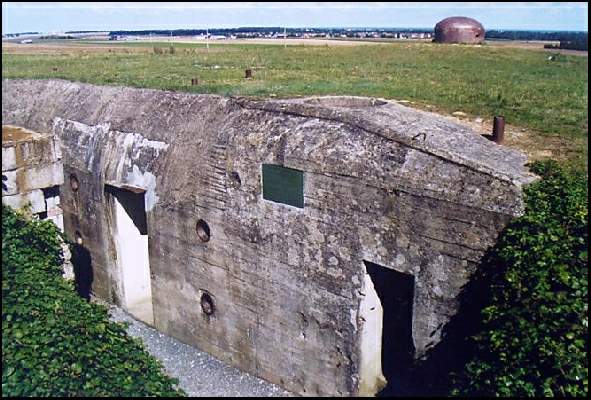 The silent complex Wn 17, a plaque reminds us of a fierce battle
SAINT-AUBIN-SUR-MER (Juno Beach)
Follow the road along the coast, D 514, west. You pass different small bunkers and gun placements along the boulevard. A remarkable one at St-Aubin-sur-Mer, at Wn 27, still retains its 50mm cannon . The right side of the casemate still bears the scars from an attack by an AVRE tank. This housing is a so-called (covered) 'Tobruk' (see below), another two can be found at Bernières and Asnelles.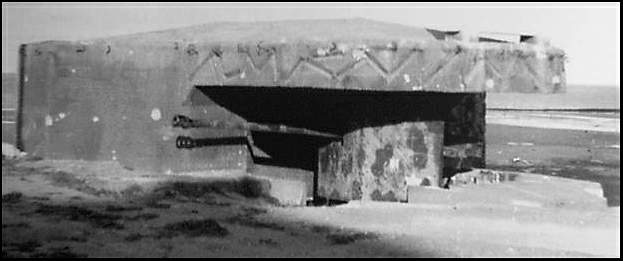 Saint-Aubin-sur-Mer, Then and Now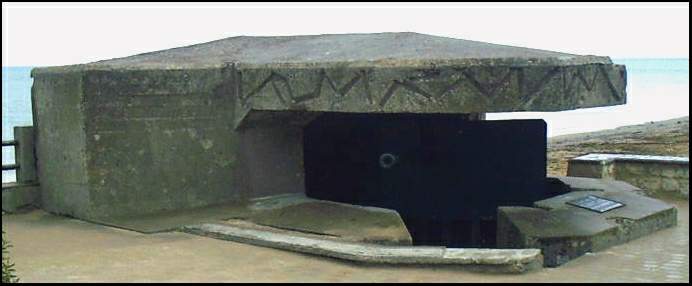 GRAYE-SUR-MER (Juno Beach)
Continue the D 514 and go through Graye-sur-Mer. Just outside this town you find a small path that leads to he beach. At the exit in the Dunes stands a Churchill AVRE tank. Turn right, after hundred metres there is a casemate of the H612 type. It is slowly sinking in the sand. Once it contained a 75mm cannon. This casemate was obvisily struck with some shells from navy guns. Internal you'll find that one grenade penetrated the concrete and steel.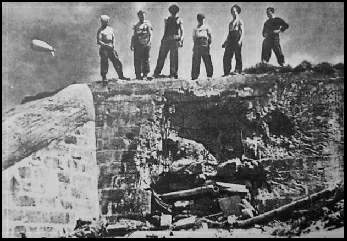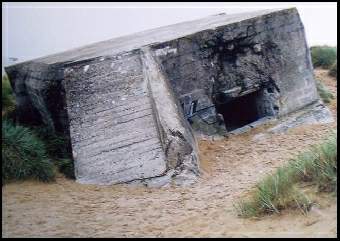 The H612 at Graye-sur-Mer, Then and Now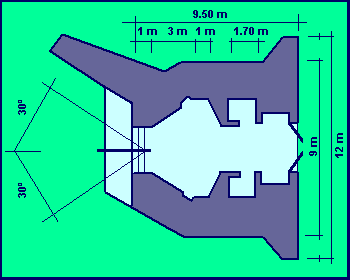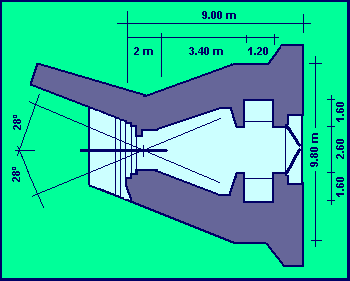 H612, like the one at Graye-sur-Mer and an H677 like the one on Gold Beach
HEADING FOR ARROMANCHES (Gold Beach)
A couple of kilometres after Graye-sur-Mer (you are now at 'Gold Beach') is a road who leads to the beach and ends at Wn 35. This is the so called 'Green sector', and here is a by cannon fire destroyed and eroded H677. For a good example of an H677, look for the one at Wiederstandnest 61, east of Colleville-sur-Mer.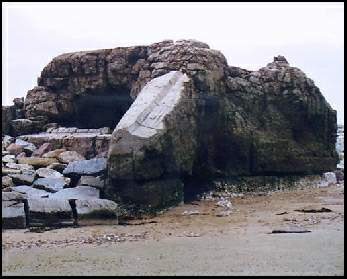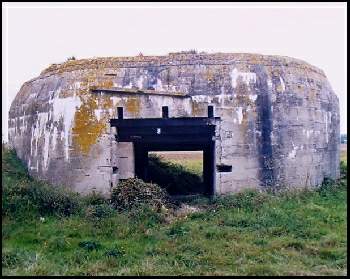 Left the H677 on Gold Beach, Wn 35, right an H669 from Mare-Fontaine, Wn 32
For the story of the Battery of Mont-Fleury, see this page. Continue to Ver-sur-Mer. To the south-east of this village, on the D 112 to Crépon, lies the Battery of Mare-Fontaine, Wn 32. The H669 casemates once had 4 X 100mm guns. Return to the coast and go to Asnelles (a few kilometres east of Arromanches). Walk the boulevard 400 metre westward. Here is a little casemate, which had a 50mm cannon. This casemate is often confused with the one on a wartime photograph. Much publicity mentions this as the same. I placed the comparing pictures below,… find the differences.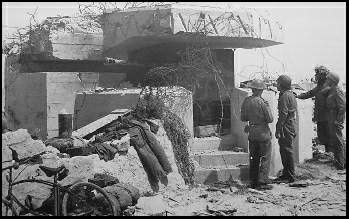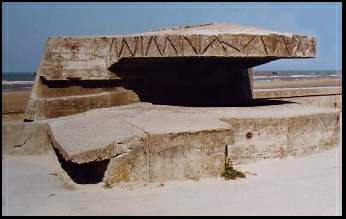 A captured 50mm casemate of the type you'll find near Wn 36, Asnelles
We leave Arromanches and head for the Battery of Longues, see this page.
For the casemates of the H669 type, go to Wiederstandnest 62, these can be found just east of the American National Cemetery near Colleville.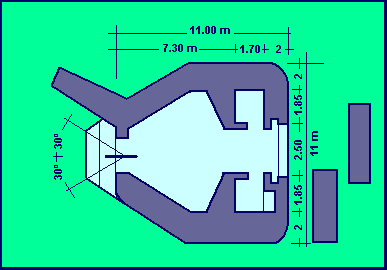 Left an H669 casemat for sideways shooting (exmp. Wn 62),
right an H669 frontal shooting (exmp. Mare-Fontaine)
You must visit Pointe du Hoc with its huge terrain of destroyed bunkers and casemates. Here you can feel the drama of destruction.
THE 'RINGSTAND', ('TOBRUK')
When you visit all these objects, you come regular across a small type of bunker. This little bunker, called by the allies a 'Tobruk', was usually occupied by one man who operated a MG42 machinegun. There were a lot of variants on the Tobruk. There were Tobruks for flametrowers and covered ones, with protected wall's, for the 50mm cannons.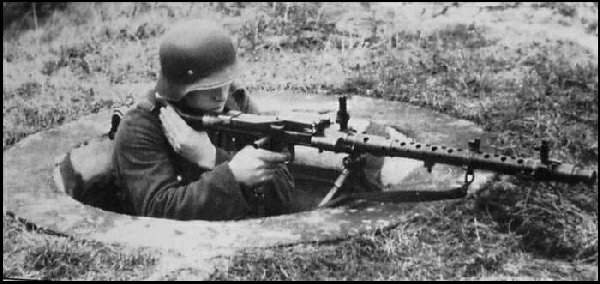 A Tobruk 'in business'
Other types of the 'Tobruk' could be used to fire mortars from. This last one is recognisable on the little pillar in the middle where the mortar was placed. A little door at the side gave entrance to the bunker, sometimes it had a short stairway (see drawing).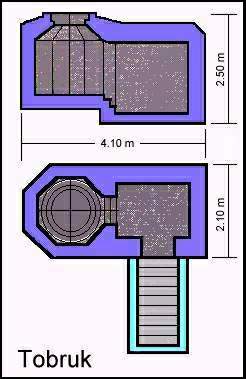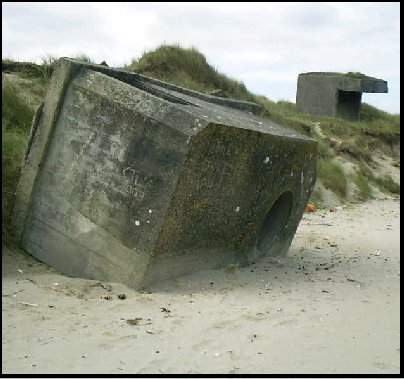 A 'Tobruk' rolled out of the dunes near Varreville, in the back a remnant of the casing of an searchlight
Tobruk's were also modified to carry turrets of tanks, mostly pre-war turrets. But there were also Tobruks who had the turret of the infamous Panther V. For example, a Tobruk with a R35 tank turret, containing a 3,7 cm gun, could be found at Le Grand Vey (Wn 101) at the southern point of Utah Beach (it is pictured below as 'Then and Now').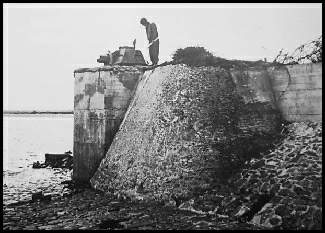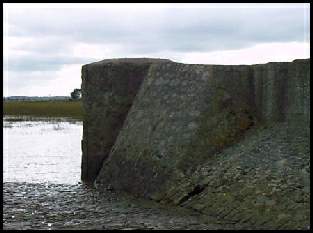 You'll find these 'ringstand' bunkers mostly near the large complexes with big casemates. They were placed as a defensive ring. This was the most simple form of bunker building. A site with many 'Tobruks' can be found in the dunes at UTAH Beach, to the left and right of the Leclerc Monument, Wn 101, near Varreville. Below is another picture of a Tobruk which had at the time a turret of a R35 tank and a picture of a bunker, a H 667 near Ravenoville (Wn 103) on the coastel road. It contained a 50mm cannon.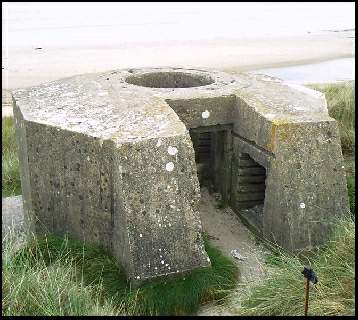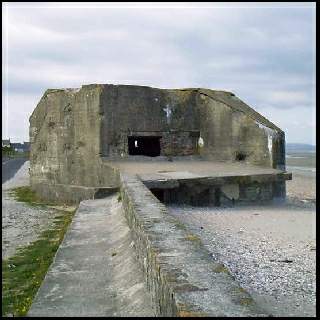 A 'Tobruk' for a R35 turret and a H 667
Further up the coast, up north, you'll find a lot more bunkers and casemats. For the true bunkerfanatic, buy yourself the book, 'Débarquement A Utah Beach'. This Heimdal publication is written by Georges Bernage (ISBN 2 84048 074 3). You can buy it at the better souvenirshop in Normandy (only in French).
Also you'll find here on this page information about Battery of Crisbeq and the Battery of Azeville.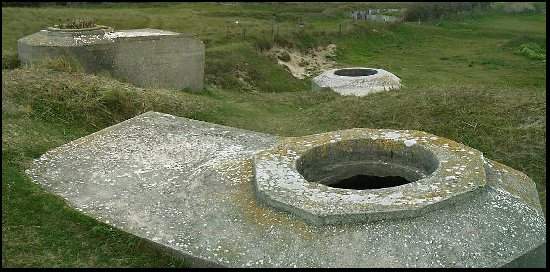 A 'Tobruk', in the dunes near Varreville
Finaly I want to bring your attention to a big concrete construction on a hilltop a few kilometres before you enter Fermanville on the D116 from Cherbourg. This is a bunker, which controlled cannon fire, a so called range finding post. From the parking at the foot of the hill, runs a path. If you come from Cherbourg you will probably miss it completely, you only see it if you come from Fermanville.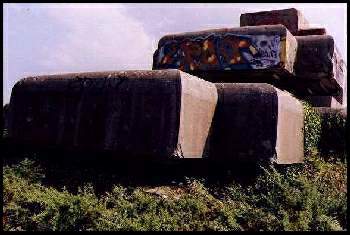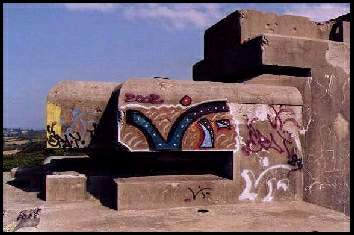 The range finding bunker on the D116 between Cherbourg and Fermanville
This is just a tip of the iceberg on bunkers and complexes. On your journey you will come across much more concrete. Please, keep amazed and wonder how in such a short period all these bunkers, casemates and blockhauses were built. Despite all that work of defence they could not stop the invasion of the allies, only delay it. It was the end of the fortress building. Because of the laser guided bomb and rocket this kind of bunker is a weapon of war that belongs in the concrete age. These things belong in a museum as a lesson for future generations,…
Now bring all wars into the museum!
For more information on bunkers, visit the pages on 'The Forgotten Beach', click on:
'This page'
Home-Page 'Battlefield Normandy' and Guestbook
RETURN